---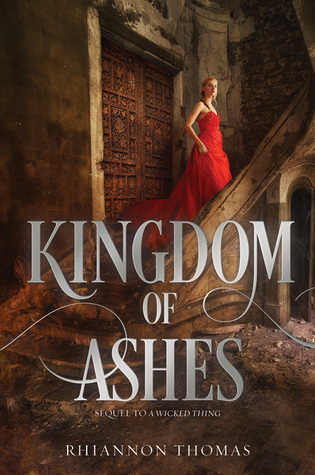 Kingdom Of Ashes
A Wicked Thing #2
Author:
Rhiannon Thomas
Reading Level: Young Adult
Genre: Fantasy
Released: February 23 2016
Review Source: HarperTeen
Asleep for a hundred years, awoken by a kiss, Aurora's life was supposed to be a fairytale. But since discovering that loyalty to the crown and loyalty to her country are two very different things, Aurora knows she can only dream of happily ever after. Once the enchanted princess, savior of her people, she is now branded a traitor.

Aurora is determined to free her home from the king's tyrannical rule, even if it means traveling across the sea to the kingdom of the handsome and devious Prince Finnegan—someone who seems to know far more about her magic than he should. However, Finnegan's kingdom has perils of its own, and any help he gives Aurora will come at a price.

As Aurora and Finnegan work together to harness her power—something so fiery and dangerous that is as likely to destroy those close to Aurora as it is to save them—she begins to unravel the mysteries surrounding the curse that was placed on her over a century before…and uncover the truth about the destiny she was always meant to fulfill.

Brimming with captivating fantasy and life-threatening danger, the sequel to A Wicked Thing takes Sleeping Beauty on an adventure unlike any she's ever had before.
Starting where A Wicked Thing picks up, we follow Aurora as she fights her way through the hardships of being a wanted criminal and figuring out how to control this power that she now has. This new story of the Sleeping Beauty that we all know and love that has taken on such an adventurous tale.
To be honest the book didn't grip me like the first one did. I loves the first one because of the story that came after Aurora woke up, I loved that. Maybe the wait between the first book and the sequel was too long and made me forget the story but I felt very disconnected. I should've maybe read A Wicked Thing first before just jumping right into this story.
Aurora is still such a strong character - which is nice to have. A female lead that is strong in her own will and doesn't necessarily rely on anyone else. I love taking the character of sleeping beauty who is usually seen as a weak woman who's asleep waiting for her true love to come kiss her awake and making her this strong, headstrong woman.