---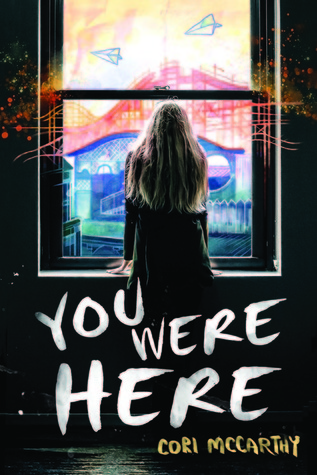 You Were Here
Author:
Cori McCarthy
Reading Level: Young Adult
Genre: Contemporary | Realistic Fiction
Released: March 1, 2016
Review Source: Sourebooks Fire | Netgalley
Grief turned Jaycee into a daredevil, but can she dare to deal with her past? On the anniversary if her daredevil brother's death, Jaycee attempts to break into Jake's favourite hideout--the petrifying ruins of an insane asylum. Joined by four classmates, each with their own brand of dysfunction, Jaycee discovers a map detailing her brother's exploration and the unfinished dares he left behind.

As a tribute to Jake, Jaycee vows to complete the dares, no matter how terrifying or dangerous. What she doesn't on is her eccentric band of friends who challenge her to do the unthinkable: reveal parts of herself that she buried with her brother.
The best part about You Were Here was getting to witness how the characters evolved. In the beginning Jaycee was harbouring so much pain from witnessing her brother's death. The need to keep him alive in every aspect was almost suffocating her. She was a danger to herself and it was heart breaking. Jake's death was an accident, a stupid accident as a result from the latest dare, and it put a dent in everyone's lives- more than we initially realise.
"She wasn't trying to kill herself," Natalie said quickly. "She's not like that. She just doesn't have a whole lot of respect for staying alive."
Even after finishing my heart was heavy. Each character was held captive by so much pain or different emotion inside that I couldn't help but feel like I was sharing it with them. I understood their pain, I may not have experienced it, but I understood it and felt it. I understood Jaycee's reckless behaviour fuelled by her brother's dearth, Zach's drinking which stems from his family troubles. Natalie's secret anxiety because she went through a tough time and never told her friends. They're all real situations which teens go through.
We have Jaycee, Natalie, Bishop, Zach and Mik. All characters are so different that I found it hard to believe they ended up in the same friend group. Surprisingly, their differences end up being the reason why they become better people. Jaycee: the fearless loud mouth who's words could slice through bricks. Natalie: the uptight rule follower. Bishop: the quiet guy who expresses himself through graffiti art. Zach: the cool guy who likes alcohol a little too much and last but not least we have Mik: Jake's former friend and now selective mute. They're interesting characters and they all hold a place in my heart.
After the last page and I hit the acknowledgments, all these thoughts ran though my head of who is this author? Does she have any other books? I need to read more books like this, where can I find them?
You Were Here
made me think. It made me think about certain situations which has happened in my life and how much I dwell on the situation and how the emotions can make a person bitter. Life is too short to let that happen. Do things right and you can go through a bad time in life but handle it well.
In all honesty, it took me a good couple of chapters to get into this book. It was my my-flight-has-been-delayed-and-I-need-a-book-to-read book. But then the book picked up and I found it very hard to keep myself together on the aeroplane and not cry. I finished the book and just sat there lost in my thoughts. It scrambled me for a good couple of days.