---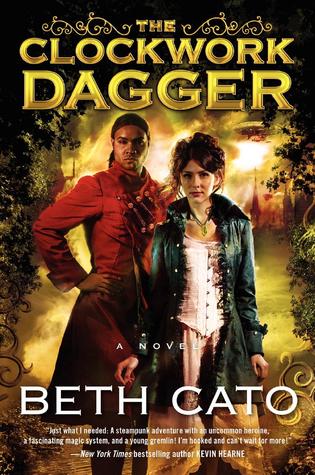 The Clockwork Dagger
Clockwork Dagger #1
Author: Beth Cato
Reading Level: Adult
Genre: Steampunk
Released: September 16th 2014
Review Source: Harper Voyager
Full of magic, mystery, and romance, an enchanting steampunk fantasy debut in the bestselling vein of Trudi Canavan and Gail Carriger.

Orphaned as a child, Octavia Leander was doomed to grow up on the streets until Miss Percival saved her and taught her to become a medician. Gifted with incredible powers, the young healer is about to embark on her first mission, visiting suffering cities in the far reaches of the war-scarred realm. But the airship on which she is traveling is plagued by a series of strange and disturbing occurrences, including murder, and Octavia herself is threatened.

Suddenly, she is caught up in a flurry of intrigue: the dashingly attractive steward may be one of the infamous Clockwork Daggers—the Queen's spies and assassins—and her cabin-mate harbors disturbing secrets. But the danger is only beginning, for Octavia discovers that the deadly conspiracy aboard the airship may reach the crown itself.
I am ecstatic that this book was put into my hands, truly thank you to the author and to the publishers who sent it to me, I ate this book up! I will admit I do not read a whole lot of steam-punk style novels. It's not that I don't enjoy the idea of it, I just don't come across it in many of my favorite authors works.
Hopefully I won't give too much away by telling readers what I liked specifically, in that there is a lot packed within 360 pages. Octavia is an educated woman, one whom is gifted with healing powers as befitting any young graduate of Miss Percival's academy. However, the last 50 years have been dark times. Where money is scarce, war and disease are overly abundant. She is to journey to Delford, a city in need of her skills. That doesn't mean her journey will be safe or swift, many plot to kidnap her for their own use, or worse, kill her before they let her fall into enemy hands. Octavia ponders what makes her any better than the other gifted young ladies who study and heal the battle front. Oh, Lady knows why.
I would gladly recommend this book for a book club, or personal library, and give The Clockwork Dagger a five-star rating!