---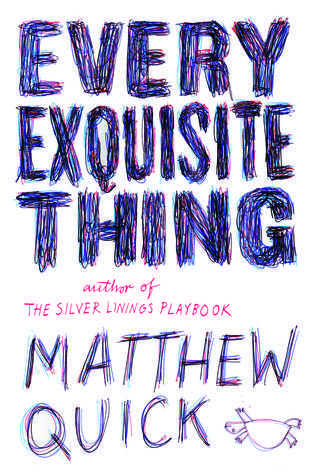 Every Exquisite Thing
Author:
Matthew Quick
Reading Level: Young Adult
Genre: Contemporary
Released: May 31, 2016
Review Source: Little Brown Books for Young Readers
Nanette O'Hare is an unassuming teen who has played the role of dutiful daughter, hardworking student, and star athlete for as long as she can remember. But when a beloved teacher gives her his worn copy of The Bugglegum Reaper--a mysterious, out-of-print cult classic--the rebel within Nanette awakens.

As she befriends the reclusive author, falls in love with a young troubled poet, and attempts to insert her true self into the world with wild abandon, Nanette learns the hard way that rebellion sometimes comes at a high price.
Nanette O'Hare likes to eat lunch alone in a classroom versus the school cafeteria. This is how she befriends a teacher, who also prefers to eat alone rather than the teacher's lounge. This teacher ends up gifting Nanette "The Bubblegum Reaper." A cult novel, according to him, that changed his life. She reads it. Over and over and over again. Needing more to the book, her teacher points her to the author, Booker, who vaguely answers her questions. They quickly become friends and start hanging out which changes Nanette and her way of doing/thinking.
Nanette at one point, by Booker, is referred to as a lonely person or a weirdo and I disagree. She's just a teenager silently yelling wishing to break from her norm. Her norm being that she does what she's expected to do and her life is mapped out for her by other people (her parents mainly.) For instance, she's a soccer player because she's insanely good at it but does she even want to play soccer? Does she even like soccer? I think my favorite lesson in this book was that just because you're good at something doesn't necessarily mean you have to do it. Booker taught her that. Which brings me to Booker, the true weirdo of this novel. I loved Booker and the wisdom he gave Nanette. He was by far my favorite character!
Nanette's journey through this book is very relatable to many teens/high schoolers. Which is why I think this book deserves praise. I didn't agree with some of the things she did but that's because I'm 100% adult. My inner teenage self though totally gets it. Matthew Quick is brilliant in diving right into a realistic Nanette.
All in all I am now a Matthew Quick fan, because his writing was smooth and made me feel. Every Exquisite Thing is an exquisite read. I'm not sorry that was a cheesy line. But, seriously... Watch out for this book!