---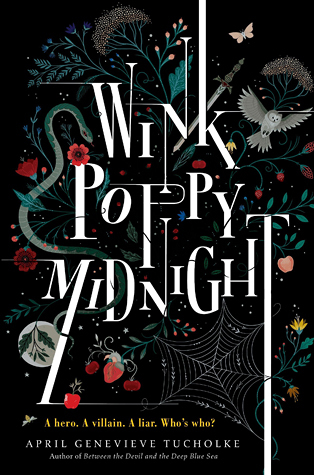 Wink Poppy Midnight
Author: April Genevieve Tucholke
Reading Level: Young Adult
Genre: Mystery
Released: March 22 2016
Publisher: Dial Books
Every story needs a hero. Every story needs a villain. Every story needs a secret.

Wink is the odd, mysterious neighbor girl, wild red hair and freckles. Poppy is the blond bully and the beautiful, manipulative high school queen bee. Midnight is the sweet, uncertain boy caught between them. Wink. Poppy. Midnight. Two girls. One boy. Three voices that burst onto the page in short, sharp, bewitching chapters, and spiral swiftly and inexorably toward something terrible or tricky or tremendous.

What really happened? Someone knows. Someone is lying.
---
Who's Your Hero, Villain, and Liar?
In this book there are 3 narrators who aren't exactly what we make them out to be right away. Midnight, our main character who might be a little shy. Wink, the odd girl who makes her way into Midnight's life. And Poppy, Midnight's girl next door who has the power to make or break him. Who's the hero? Who's the villain? And who's the liar?
We thought it'd be fun for me to share with you guys who my favorite book/tv/movie hero, villain and liar are.
My favorite hero would have to be Patch from
Hush, Hush.
If you know me you know how much I love this series. And how much Patch has stolen my heart. So this makes him my favorite fallen angel hero.
My favorite villain would have to be Maleficent from Sleeping Beauty. I'm not completely sure why, but I absolutely love her.
And my favorite "liar" would have to be Jay Gatsby from The Great Gatsby. He is the hero of his story, yet no one can tell you who he really is. And honestly - he doesn't really ever tell you what's made up about him and what's his real story. When he does you question if he's actually telling you the truth. And because of that, I love the man.
---
April Genevieve Tucholke is the critically acclaimed author of Between the Devil and the Deep Blue Sea and Between the Spark and the Burn. Her third novel,Wink Poppy Midnight, will be
released March 22, 2016 from Dial/Penguin. April has lived in many places around the world and currently resides in Oregon with her husband.
Thanks to PenguinTeen, 3 winners will receive a finished copy of WINK POPPY MIDNIGHT, SLASHER GIRLS & MONSTER BOYS, and a mystery ARC from Penguin's Summer 2016 list!
a Rafflecopter giveaway