---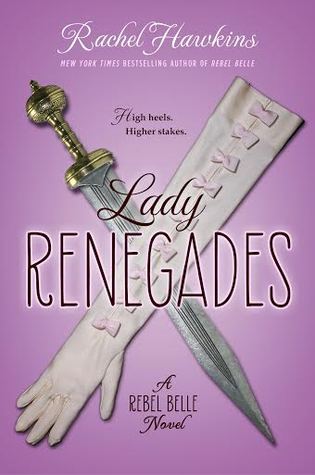 Lady Renegades
Rebel Belle #3
Author: Rachel Hawkins
Reading Level: Young Adult
Genre: Paranormal
Released: April 5th 2016
Review Source: G.P. Putnam's Sons Books for Young Readers
Just as Harper Price starts coming to terms with her role as David Stark's battle-ready Paladin, protector, and girlfriend—her world goes crazy all over again.

Overwhelmed by his Oracle powers, David flees Pine Grove and starts turning teenaged girls into Paladins—and these young ladies seem to think that Harper is the enemy David needs protecting from. Ordinarily, Harper would be able to fight off any Paladin who comes her way, but her powers have been dwindling since David left town, which means her life is on the line yet again.

Now, it's a desperate race for Harper to find and rescue David before she backslides from superhero to your garden-variety type-A belle.

New York Times bestselling author Rachel Hawkins brings the fun once again in the finale of this pitch-perfect romantic paranormal comedy series.
There are three things you should know about this series and Rachel.
1. Harper Lee, our main character, is the perfect student turned to a kickass girl.
2. David, Harper's nemesis, is the one and only Harper needs to protect after finding out her powers, the irony!
3. Rachel Hawkins is hysterical and will make you laugh out loud with her stories.
Put these together and you will get a funny story. And that is what this series is all about.
Lady Renegades picks where Miss Mayhem left off. David is gone and now Harper has to learn how to live a normal life, again. The story begins with David's point of perspective. We learned he is hurting, with no human contact, and has major headaches. In addition, he's lost lots of weight while his power is getting stronger than ever.
As for as Harper, the girls is out of her mind! With nothing to do, she takes a summer job as a lifeguard along with Bee. But she spends her time at work reading. Until one day she gets a visit from a Paladin and within seconds, she gets in a fight with her. Harper lost her power and thankfully Bee steps in and saves her. Honestly, I was so worried!
The story-line is very solid until things start to pick up. Especially when we read David is experiencing some very weird things. Very creepy things. And you begin to fear for his life. Then there are many things thrown at us as well as new characters and old ones, like aunt Jewel. She's always a blast to read about. Plus she gives good advise, haha.
Overall, Lady Renegades is short, sweet and packed with action. Rachel will entertained you, she will make you laugh and even gasp here are there. You will be on edge by the end. Although I was hoping for more romance time with Harper and David, as this is the final book of the series. I love them together and I needed more of them. The end is satisfying and I wish we would have more. Although knowing Harper, she will make things better.
Rebel Belle is a series I recommend to anyone looking for a good laugh. I even recommended this series at her the Penguin Teen Tour to few people and I loved how they actually go the book. Rachel is hysterical and she creates great and funny characters.