---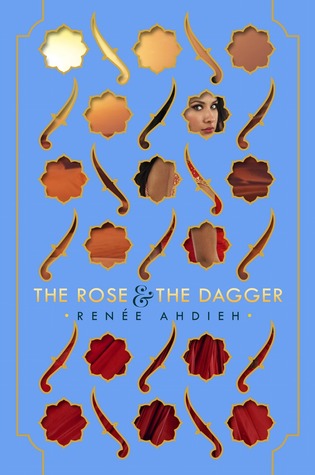 The Rose & the Dagger
The Wrath and the Dawn #2
Author: Renée Ahdieh
Reading Level: Young Adult
Genre: Fantasy
Released: April 26th 2016
Review Source: G.P. Putnam's Sons Books for Young Readers
The much anticipated sequel to the breathtaking The Wrath and the Dawn, lauded by Publishers Weekly as "a potent page-turner of intrigue and romance."

I am surrounded on all sides by a desert. A guest, in a prison of sand and sun. My family is here. And I do not know whom I can trust.

In a land on the brink of war, Shahrzad has been torn from the love of her husband Khalid, the Caliph of Khorasan. She once believed him a monster, but his secrets revealed a man tormented by guilt and a powerful curse—one that might keep them apart forever. Reunited with her family, who have taken refuge with enemies of Khalid, and Tariq, her childhood sweetheart, she should be happy. But Tariq now commands forces set on destroying Khalid's empire. Shahrzad is almost a prisoner caught between loyalties to people she loves. But she refuses to be a pawn and devises a plan.

While her father, Jahandar, continues to play with magical forces he doesn't yet understand, Shahrzad tries to uncover powers that may lie dormant within her. With the help of a tattered old carpet and a tempestuous but sage young man, Shahrzad will attempt to break the curse and reunite with her one true love.
I hate this book! Ugh, it left me with such a book hangover.
Beware: this book gives you so many feels and then it leaves you wanting more. So much that when you pick the next book, you will just put it down and go back to your favorite quotes.... Which is pretty much the entire book. In my case, I had the audiobook, so I listened to it right after.
Honestly, Renee has ways with words and execute each phrases with ease. Her words are the most beautiful words and are more lyrics to your soul. So fear not, as this conclusion is as much of a masterpiece as the first.
With a year of wait, The Rose and the Dagger hits all the feels. A story of love, magic, betrayals, redemption, and much more. Worth the wait. Worth the hangover. It's just simply amazing. And Khalid... wait until you fall yet again and even more in love with him. As far as Shahrzad, can she get an award? She deserves it. She faces so many challenges in this book. The girl is a badass. I love her to pieces.
Guys, just know this book is full of twists and you'll devour everything in one sit. The only terrible thing is the ending. There is no more Shazi, no more Khalid, no more words... You will be left with a hole in your heart. The worst feeling ever.
The Rose and the Dagger needs no review. It sell itself. Better yet, there is no words to describe the beauty of this story. So if you don't want to be heartbroken, if you don't want a book hangover, then you stay away from The Rose and the Dagger. This beautiful and captivating story will leave you like there is no tomorrow.