Welcome to our stop on Circle of Jinn tour for Lori Goldstein. This tour is hosted by
Fantastic Flying Book Club
.
---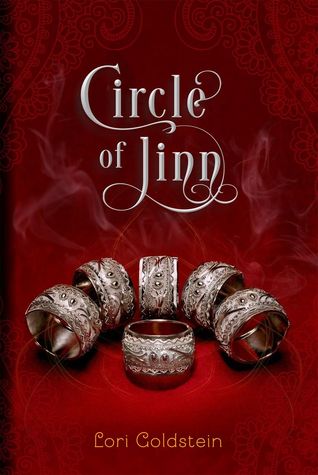 Circle of Jinn
Author: Lori Goldstein
Reading Level: Young Adult
Genre: Fantasy
Released: May 17 2016
Review Source: Feiwel & Friends
Being Jinn is Azra's new reality. As she grants wishes under the watchful eye of the Afrit council, she remains torn between her two worlds—human and Jinn. Soon, secrets spill. Zars are broken. Humans become pawns. And rumors of an uprising become real as the Afrit's reach extends beyond the underground world of Janna.

Straddling the line becomes impossible. Aware of her unique abilities, Azra must not just face but embrace her destiny. But when the role she must play and those she must protect expand to include a circle of Jinn greater than her own, Azra will be forced to risk everything. A risk that means there's everything to lose, and at the same time, everything to gain—for herself and her entire Jinn race.

In this dramatic sequel to Becoming Jinn, Azra's story comes to a heartfelt and thrilling conclusion.
10 Random Facts about the Series

1. The name Azra was inspired by a real-life news report of an infant baby pulled from the rubble of an earthquake in Turkey in 2011. Both she and her mother miraculously survived.
2. The Jinn are a real-life spirit creature core to the beliefs of cultures in North Africa and the Middle East. Lore about the Jinn spans centuries.
3. Names from my own family populate Becoming Jinn and Circle of Jinn, from my grandmothers to my sister to my friends to my first cat (who was also demonic as is the Slinky in the book).
4. Other names were chosen for what they mean: those inclined, look up Henry Carwyn and Nathan Reese.
5. The beach where Azra works is based on my favorite beach in Massachusetts: Crane Beach in Ipswich.
6. I am a huge Vampire Diaries fan. There are veiled references to the show throughout both books (hybrid, anyone?).
7. The bangles featured on the covers were purchased in the retail chain Ten Thousand Villages.
8. Azra loves a food I love: mint chocolate chip ice cream.
9. Azra loves a food I hate: coffee.
10. The first page and the last page of Becoming Jinn never changed from the day I signed with my agent. Ditto for Circle of Jinn.
---
My debut novel, the Young Adult Contemporary Fantasy Becoming Jinn, is a modern spin on the traditional tale of wish-granting genies. The sequel, Circle of Jinn, releases May 17, 2016 (Feiwel and Friends/Macmillan).
Too much of my day involves chatting books, obsessing over The Vampire Diaries, and perfecting the art of efficient writing through Twitter. Find me at @loriagoldstein and follow my blog at www.lorigoldsteinbooks.com, my Tumblr athttp://lorigoldsteinbooks.tumblr.com, or my Instagram athttp://www.instagram.com/lorigoldstei....
Like my author page on Facebook for fun book-related photos, tidbits, and happenings as well as news on Becoming Jinn.
I am represented by Lucy Carson of The Friedrich Agency.
GIVEAWAY
Prize: Win an infinity necklace and some Circle of Jinn swag (US Only)
a Rafflecopter giveaway