Welcome to our stop on
The King Slayer
tour for Virginia Boecker. This tour is hosted by
Rockstar Book Tour.
---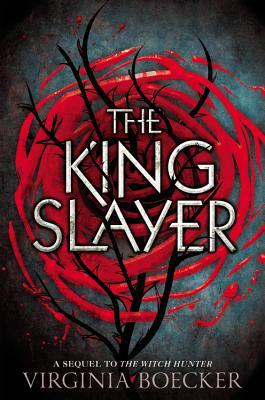 The King Slayer
The Witch Hunter #2
Author: Virginia Boecker
Reading Level: Young Adult
Genres: Paranormal
Release Date: June 14th 2016
Publisher: Little, Brown Books for Young Readers
An action-packed and suspenseful sequel to The Witch Hunter, perfect for fans of Graceling and the Grisha Trilogy.

"I think, in time, you'll either be my greatest mistake or my greatest victory."

Former witch hunter Elizabeth Grey is hiding within the magically protected village of Harrow, evading the price put on her head by Lord Blackwell, the usurper king of Anglia. Their last encounter left Blackwell ruined, but his thirst for power grows stronger every day. He's readying for a war against those who would resist his rule--namely Elizabeth and the witches and wizards she now calls her allies.

Having lost her stigma, a magical source of protection and healing, Elizabeth's strength is tested both physically and emotionally. War always means sacrifice, and as the lines between good and evil blur once more, Elizabeth must decide just how far she'll go to save those she loves.
My Five Favorite Moments from The King Slayer
1. The flashback to the maze scene. Because THE WITCH HUNTER is not a "training" book, per se, we don't have a lot of scenes that detail what Elizabeth went through in order to become a witch hunter, what she was like before she was branded a traitor, or how Blackwell saw her as a recruit. In this scene we get to see all of that, and to see Elizabeth's strength and a glimpse of just how duplicitous Blackwell is.
2. The scene between John and Elizabeth in the apothecary (you'll know it when you read it). In this scene there's a lot of romance and not a lot of clothing; I wrote it in one take and because I'm a blusher and a secret squeamish 12-year-old boy it pained me to look at it again, and again, and again during edits. But even throughout all those edits, the scene remained intact. Huh. Maybe I have a future as a romance writer, if I can get past the blushing…
3. The scene in the gallery in Ravenscourt Palace (you'll also know it when you read it). The gallery itself is based on a space of the same name in Hampton Court, one of Henry VIII's 16th century palaces just outside London. There's a rumor it's haunted by the ghost of Henry's 5th wife, Katherine Howard, the second wife he had beheaded (alas, when I visited the Gallery, I never heard her!). But it's a really beautiful and picturesque space and since I had been there a number of times I had an easy time imagining how it would all play out.
4. Anytime Fifer and Schuyler are on the page together. In fact, I love them so much I decided to write a novella about them (more on this coming soon!). I love the way they interact; writing their dialogue is so easy, it just sort of…happens. Schuyler has such a complicated past and Fifer has such a complicated present so it's fun to see how they work out all those complications together.
5. The last paragraph, specifically the last line. I wrote it before I started the manuscript; I knew exactly how I wanted this story to end.
---
Virginia Boecker recently spent four years in London obsessing over English medieval history, which formed the basis of The Witch Hunter. She now lives in the Bay Area, California with her husband and spends her days writing, reading, running, and chasing around her two children and a dog named George.
In addition to English kings, nine-day queens, and Protestant princesses, her other obsessions include The Smiths, art museums, champagne, and Chapstick. She is represented by the incomparable
Kathleen Ortiz
at
New Leaf Literary & Media
.
3 winners will receive a finished copy of THE KING SLAYER, US Only.
FOLLOW THE TOUR!
6/15/2016-
Two Chicks on Books
- Interview
6/15/2016-
Me, My Shelf and I
- Review
6/16/2016-
Owl Always Be Reading
- Guest Post
6/16/2016-
The Best Books Ever
- Review
6/17/2016-
Adventures of a Book Junkie
- Interview
6/17/2016-
Mundie Moms
- Review