---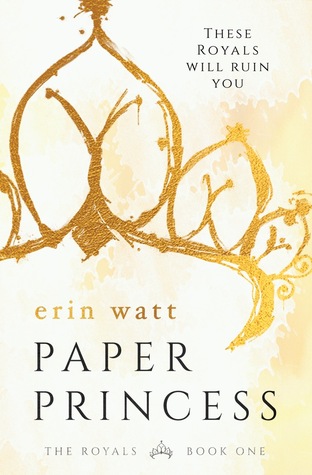 Paper Princess
The Royals #1
Author:
Erin Watt
Reading Level: Young Adult | New Adult
Genre: Contemporary Romance
Released: April 3rd 2016
Review Source: Purchased
From strip clubs and truck stops to southern coast mansions and prep schools, one girl tries to stay true to herself.

These Royals will ruin you…

Ella Harper is a survivor—a pragmatic optimist. She's spent her whole life moving from town to town with her flighty mother, struggling to make ends meet and believing that someday she'll climb out of the gutter. After her mother's death, Ella is truly alone.

Until Callum Royal appears, plucking Ella out of poverty and tossing her into his posh mansion among his five sons who all hate her. Each Royal boy is more magnetic than the last, but none as captivating as Reed Royal, the boy who is determined to send her back to the slums she came from.

Reed doesn't want her. He says she doesn't belong with the Royals.

He might be right.

Wealth. Excess. Deception. It's like nothing Ella has ever experienced, and if she's going to survive her time in the Royal palace, she'll need to learn to issue her own Royal decrees.
This book!!!!!!! I loved it so much! I don't normally do "cliffies" but OMG this one made me absolutely CRAVE the next book immediately.
To start Ella Harper is freaking awesome! I love her. She has gone through so many struggles in her young life and doesn't let it get her down. She was raised by a single mother in very poor conditions. They hopped around from place to place just trying to survive. Her mother worked several jobs including stripping to support them. When her mother got sick, Ella started stripping to cover their bills and medical costs. She continued stripping to support herself when her mother passed away. Which is how Callum Royal found her.
The Royals at first glance are complete jerks with egos the size of Texas. They also happen to be drop dead gorgeous!! Callum ends up becoming Ella's guardian and is very welcoming but his five sons are not as hospitable.
Reed has made it to my top book boyfriend list. Actually, all the Royal boys do. They become very protective of Ella and make you want to date all of them simultaneously. Gideon, the oldest seems very mysterious and like he's hiding things. Reed, next in line is the leader of the pack, especially since Gideon is off at college. He also has a mysterious, brooding quality. Easton is so love able! He is fun and sexy! He struggles with his demons the most. The twins, Sawyer and Sebastian, are always up to something and are the youngest of the Royals. All together they make one gorgeous, complicated bunch.
I give this story 5 stars because it kept me wanting every single word, I could not put the book down. It was written so well! I love the character details for each person, I love how the story flowed and I love the dialogue. I cannot wait to dive into book two to find out what happens!