Waiting on Wednesday
"Waiting On Wednesday" is a weekly event, hosted by Breaking The Spine, that spotlights upcoming releases that we're eagerly anticipating.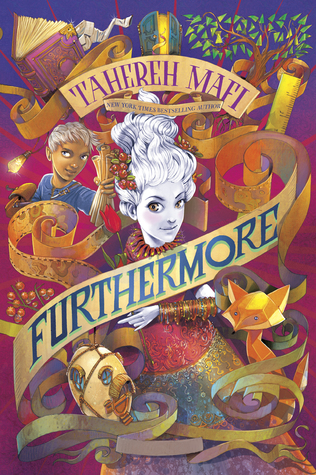 Furthermore
Author: Tahereh Mafi
Release Date: August 30th 2016
Publisher: Dutton Books for Young Readers
There are only three things that matter to twelve-year-old Alice Alexis Queensmeadow: Mother, who wouldn't miss her; magic and color, which seem to elude her; and Father, who always loved her. The day Father disappears from Ferenwood he takes nothing but a ruler with him. But it's been almost three years since then, and Alice is determined to find him. She loves her father even more than she loves adventure, and she's about to embark on one to find the other.

But bringing Father home is no small matter. In order to find him she'll have to travel through the mythical, dangerous land of Furthermore, where down can be up, paper is alive, and left can be both right and very, very wrong. Her only companion is a boy named Oliver whose own magical ability is based in lies and deceit—and with a liar by her side in land where nothing is as it seems, it will take all of Alice's wits (and every limb she's got) to find Father and return home to Ferenwood in one piece. On her quest to find Father Alice must first find herself—and hold fast to the magic of love in the face of loss.
---
Stealing Snow
Stealing Snow #1
Author: Danielle Paige
Release Date: September 20th 2016
Publisher: Bloomsbury USA Childrens
Seventeen-year-old Snow has spent the majority of her life within the walls of the Whittaker Institute, a high security mental hospital in upstate New York. Deep down, she knows she's not crazy and doesn't belong there. When she meets a mysterious, handsome new orderly and dreams about a strange twisted tree she realizes she must escape and figure out who she really is.

Using her trusting friend Bale as a distraction, Snow breaks free and races into the nearby woods. Suddenly, everything isn't what it seems, the line between reality and fantasy begins to blur, and she finds herself in icy Algid--her true home--with witches, thieves, and a strangely alluring boy named Kai, none of whom she's sure she can trust. As secret after secret is revealed, Snow discovers that she is on the run from a royal lineage she's destined to inherit, a father more powerful and ruthless than she could have imagined, and choices of the heart that could change the fate of everything...including Snow's return to the world she once knew.

This breathtaking first volume begins the story of how Snow becomes a villain, a queen, and ultimately a hero.