---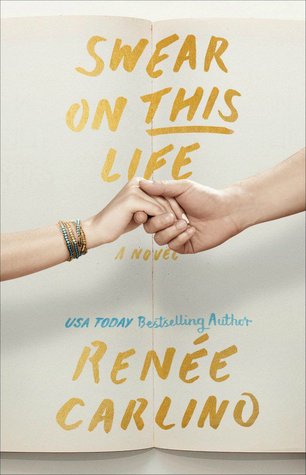 Swear on This Life
Author:
Renee Carlino
Reading Level: New Adult
Genre: Contemporary Romance
Released: August 9, 2016
Review Source: Atria Books | Netgalley
When a bestselling debut novel from mysterious author J.Colby becomes the literary event of the year, Emiline reads it reluctantly. As an adjunct writing instructor at UC San Diego with her own stalled literary career and a bumpy long-term relationship, Emiline isn't thrilled to celebrate the accomplishments of a young and gifted writer.

Yet from the very first page, Emiline is entranced by the story of Emerson and Jackson, two childhood best friends who fall in love and dream of a better life beyond the long dirt road that winds through their impoverished town in rural Ohio.

That's because the novel is patterned on Emiline's own dark and desperate childhood, which means that "J. Colby" must be Jase: the best friend and first love she hasn't seen in over a decade. Far from being flattered that he wrote the novel from her perspective, Emiline is furious that he co-opted her painful past and took some dramatic creative liberties with the ending.

The only way she can put her mind at ease is to find and confront "J. Colby," but is she prepared to learn the truth behind the fiction?
The Story: Swear on this life starts with Emiline, a professor, trying to write but not quite successfully. In a rut, her roommate basically forces her to read the hugely successful book written by "J. Colby". As soon as Emi starts reading, she discovers that the book is about her life growing up in rural Ohio with her childhood best friend/love. This story is about Emi's self discovery and healing through words and a journey of acceptance and closure.
The Likes: Be still my heart I LOVED THIS BOOK. I loved everything about it. This is actually my first Renee Carlino book and I was blown away by her writing and creativity. I loved that it was written based on present time but that we learned so much of her past with Jase through his book. I thought the story-line was so unique and unlike anything I have read before. I thought Renee's description of their hometown was perfect, I could picture, perfectly, the long dirt road as if I was walking beside them to school in the mornings.
The dislikes: I really didn't have any dislikes with this book. The only "complaint", if you can call it a complaint, is that I LOVED the secondary characters (her two aunts, her best friend, older version of her dad) and would have loved for them to have had some more "air time". It would have been awesome to see more of their relationships and interactions.
The rating: I give this story 5 STARS because it is one of my favorite reads of 2016! Renee evoked every emotion in me while reading this book. I laughed, cried, seethed, cheered, and celebrated with the characters. It is such a beautiful story that will stick with me for a very long time.