---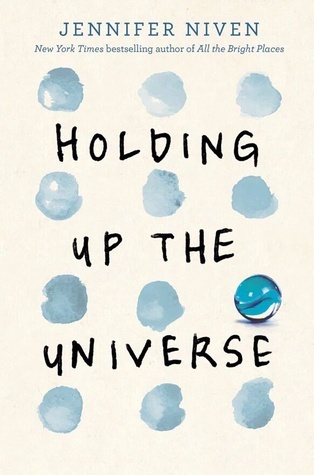 Holding Up the Universe
Author: Jennifer Niven
Reading Level: Young Adult
Genres: Contemporary
Release Date: October 4th 2016
Publisher: Knopf Books for Young Readers
From the author of the New York Times bestseller All the Bright Places comes a heart-wrenching story about what it means to see someone—and love someone—for who they truly are.

Everyone thinks they know Libby Strout, the girl once dubbed "America's Fattest Teen." But no one's taken the time to look past her weight to get to know who she really is. Following her mom's death, she's been picking up the pieces in the privacy of her home, dealing with her heartbroken father and her own grief. Now, Libby's ready: for high school, for new friends, for love, and for EVERY POSSIBILITY LIFE HAS TO OFFER. In that moment, I know the part I want to play here at MVB High. I want to be the girl who can do anything.

Everyone thinks they know Jack Masselin, too. Yes, he's got swagger, but he's also mastered the impossible art of giving people what they want, of fitting in. What no one knows is that Jack has a newly acquired secret: he can't recognize faces. Even his own brothers are strangers to him. He's the guy who can re-engineer and rebuild anything in new and bad-ass ways, but he can't understand what's going on with the inner workings of his brain. So he tells himself to play it cool: Be charming. Be hilarious. Don't get too close to anyone.

Until he meets Libby. When the two get tangled up in a cruel high school game—which lands them in group counseling and community service—Libby and Jack are both pissed, and then surprised. Because the more time they spend together, the less alone they feel. . . . Because sometimes when you meet someone, it changes the world, theirs and yours.

Jennifer Niven delivers another poignant, exhilarating love story about finding that person who sees you for who you are—and seeing them right back.
Nothing is like reading a great story about loving yourself and Jennifer Niven nailed it. Not only will you dive into a roller coaster rider of FEELS but this story will make you appreciate life by living thru these two amazing characters. Jack and Libby will make you smile, cry and they will make you get up and cheer for them. It's like watching the ending of The Breakfast Club over and over.
Holding Up the Universe covers many serious topics such as mental health, weight issues, being bullied, and being a teen in a very messed up world. Life isn't fair for these two but they learn to get by. Beautifully written, Jack and Libby's story will make your heart melt.
Jack will surely steal your heart while Libby will inspire readers in so many ways. She will make you think how one should treat others but most importantly how one should treat themselves. She will make you appreciate yourself and respect your body no matter what shape and form you are. Honestly, she is a superstar, a brilliant individual one can only admire. I loved her dearly and she is surely a role model to teens.
Learning how to forgive, accept and move on with life is surely the main focus of this story. There is so much to say about this wonderful story but it is best that you purchase Holding Up the Universe on October 4th and read. Trust me, you do not want to miss out. This is a book everyone should read.
---
By the time I was ten, I had already written numerous songs, a poem for Parker Stevenson ("If there were a Miss America for men, You would surely win"), two autobiographies (All About Me and My Life in Indiana: I Will Never Be Happy Again), a Christmas story, several picture books (which I illustrated myself) featuring the Doodle Bugs from Outer Space, a play about Laura Ingalls Wilder's sister entitled Blindness Strikes Mary, a series of prison mysteries, a collection of short stories featuring me as the main character (an internationally famous rock star detective), and a partially finished novel about Vietnam. I was also an excellent speller from a very early age.
In 2000, I started writing full-time, and I haven't stopped... I've written eight books (two of those are forthcoming), and when I'm not working on the ninth, I'm contributing to my web magazine, Germ (www.germmagazine.com), thinking up new books, and dabbling in TV. I am always writing.