---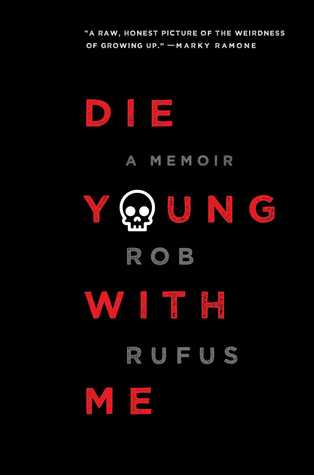 Die Young with Me: A Memoir
Author: Rob Rufus
Reading Level: Young Adult
Genres: Nonfiction
Release Date: September 20th 2016
Publisher: Touchstone
In the tradition of John Green's The Fault in Our Stars and Me and Earl and the Dying Girl comes the incredibly moving true story of a teenager diagnosed with cancer and how music was the one thing that helped him get through his darkest days.

Punk's not dead in rural West Virginia. In fact, it blares constantly from the basement of Rob and Nat Rufus—identical twin brothers with spiked hair, black leather jackets, and the most kick-ass record collection in Appalachia. To them, school (and pretty much everything else) sucks. But what can you expect when you're the only punks in town?

When the brothers start their own band, their lives begin to change: they meet friends, they attract girls, and they finally get invited to join a national tour and get out of their rat box little town.

But their plans are cut short when Rob is diagnosed with a rare form of cancer that has already progressed to Stage Four. Not only are his dreams of punk rock stardom completely shredded, there is a very real threat that this is one battle that can't be won.

While Rob suffers through nightmarish treatments and debilitating surgery, Nat continues on their band's road to success alone. But as Rob's life diverges from his brother's, he learns to find strength within himself and through his music. Die Young With Me is a raw, honest account of a brave teen's fight with cancer and the many ways music helped him cope through his recovery.
If you're feeling blue and need some words of inspiration, look no further. Die Young with Me: A Memoir is an inspiring story that will lift your spirit. And even if you're not into punk, like myself, this story will teach you that even the most darkest time, there is light at the end of the tunnel.
Die Young with Me is the story of Rob Rufus. He and his brother are the outcast of the group. After a family reunion, they discover the wonders of Punk music. They become obsessed. Everything becomes Punk. They even start a band and as mentioned, it becomes their life. They even want to make it professionally. As they work hard to make their dream come true, things are looking bright for them. Until Rob becomes very ill. He goes to many doctors and not many can figure out what is wrong with him. Until finally a female doctor diagnosed him with advanced stage cancer. Like many patients, Rob goes thru many trials. Not only is he going thru chemo, but cancer destroys his friendship and his career down the drain. Yet this doesn't stop Rob. He fights for his life to the very end, but his strength is greater and by grace he survives.
I really enjoyed this story. Rob's story tells you how cancer can affect everyone and destroy relationships. And the fact that it contains strong language, makes the story raw and honest. Still, Rob is a fighter and kicks cancer to the curve. After all, what doesn't kill you makes you stronger. Overall, I recommend this book to everyone. Rob will encourage you to live life as you were given this life because you are strong enough to live it.