---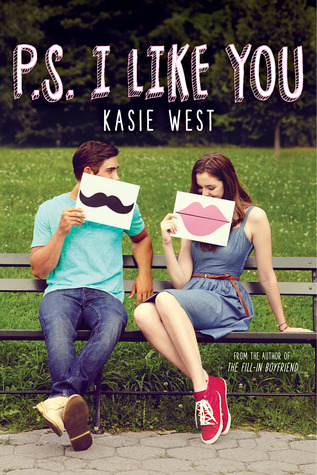 P.S. I Like You
Author:
Kasie West
Reading Level: Young Adult
Genre: Contemporary
Released: July 26th 2016
Review Source: Purchased
Signed, sealed, delivered…

While spacing out in chemistry class, Lily scribbles some of her favorite song lyrics onto her desk. The next day, she finds that someone has continued the lyrics on the desk and added a message to her. Intrigue!

Soon, Lily and her anonymous pen pal are exchanging full-on letters—sharing secrets, recommending bands, and opening up to each other. Lily realizes she's kind of falling for this letter writer. Only, who is he? As Lily attempts to unravel the mystery and juggle school, friends, crushes, and her crazy family, she discovers that matters of the heart can't always be spelled out…
One thing is for for sure, when it comes to Kasie West I am NEVER disappointed. Her contemporary YA books make me so giddy and swoony and just everything I look for when I'm going into a book like that.
So obviously I'm going to be spending the next couple of paragraphs explaining to you how you're completely missing out on Kasie West and all her YA glory. And if you're a genius like me and have already read her, adored her, and consumed all her books like I did, I know you'll read this with a head nod agreeing your way through.
Alright, alright, alright,
P.S. I Like You
follows sweet songwriter, Lily, who always seems to be nose deep in taking notes on which lyrics sound better than what's going on in chemistry. After too many failed attempts at being discreet, Lily's teacher forces her to put the notebook away and have only one sheet out for note taking out, which inevitably doesn't stop her and she ends up doodling lyrics from a favorite band on her desk. Then to her surprise the next day someone continued on with the lyrics which became the start of a secret desk pen pal (they did move onto secret notes under the desk, no one needs to be writing that much on a school desk). Lily is finding that writing to her pen pal is cathartic, who ever they be seems to understand her and her music, she's able to express herself a little more to anonymity than she is to the real world.
In any Kasie West book you are always guaranteed organic relationships, especially between friends and families. Lily has good and bad days with her siblings, her and her best friend aren't always picking roses. Everything just feels real. Then you get the swoon factor in there and I always get nostalgic for high school and the butterflies that accompanied whenever your crush walked through the door. The best part though is that every relationship gets worked on, gets better, stronger, and I always have to hug her books when I'm done. So please pick this up and then pick up every other Kasie West book in the vicinity. They are just too cute and too perfect.