Welcome to our stop on
Unlocked
tour for Margo Kelly. This tour is hosted by
YA Bound Book Tours
.
---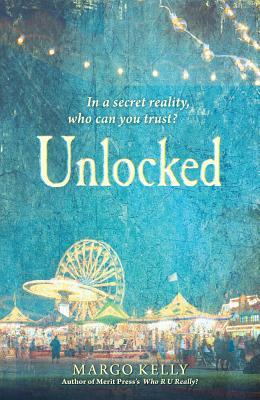 Unlocked
Author: Margo Kelly
Reading Level: Young Adult
Genre: Mystery
Released: March 31st 2016
Publisher: Merit Press
17-year-old Hannah is losing her grip on reality, which is affecting not only her but her friends and family too. She wrecked the car when bugs crawled over her hands, but were the creepy things even real? Now someone is moving Hannah's possessions around in her room, or is she imagining that also? Why does she feel like she isn't in control of her own brain anymore? Hannah is terrified she's headed for a horrible life in and out of the mental institution, just like her dad.

When her friends bail, Hannah is left floundering. Her boyfriend, Manny, doesn't believe her wild stories, and new girl Chelsea is practically replacing her at school. Only artsy outsider and self-proclaimed occult expert, Plug, agrees to help Hannah discover the truth, but even he can't help Hannah reclaim her mind from whatever is taking over. She'll have to do that on her own, especially if she wants to save her friends, her mom, and herself.
Interview
Q: Who was your first boyfriend?
A: A boy I met at the roller-skating rink. I can't even remember his name.
Q: Tell me about your first kiss
A: When I was a preteen I tackled the cute neighbor boy and planted one right on him.
Q: Do you believe in love at first sight?
A: Yes. I fell in love with my husband at first sight. I went back to my college dorm that night and told all of my friends that I was going to marry him. They thought I was nuts, but they laughed when I announced our engagement about five months later.
Q: What's the memorable summer job you've ever had?
A: I only lasted two weeks at KFC. It was so greasy that I kept slipping on the floors and falling. Grease covered every surface, and I went home feeling so icky every day. But I still eat there occasionally!
Q: What's your favorite season/weather?
A: Fall Q: Beach or pool? A: Sandy beach along a river in Idaho
Q: Where is the best place in the world you've been?
A: I've traveled a lot. I've been to places like Bermuda, Grand Cayman, Cancun, Panama,Alaska, Hawaii, Washington D.C., Williamsburg, Puerto Rico, and many other great places. But the best place in the world is amongst the pine trees in the mountains of Idaho next to a rushing white-water river.
Q: Where can readers stalk you online? A: Website: www.margokelly.net Facebook: https://www.facebook.com/MargoKelly.author
Twitter: https://twitter.com/MargoWKelly
Goodreads: https://www.goodreads.com/margokelly
Instagram: https://www.instagram.com/margowkelly/
---
Margo Kelly is a native of the Northwest and currently resides in Idaho. A veteran public speaker, Margo is now actively pursuing her love of writing. Her critically acclaimed debut, Who R U Really?, was published by Merit Press (an imprint of F+W Media) in 2014. Her second novel, Unlocked, will be published by Merit Press in October 2016. Margo welcomes opportunities to speak to youth groups, library groups, and book clubs.
Margo Kelly loves to be scared … when she's reading a good book, watching a good movie, or suffering from the hiccups. She loves writing thrillers for young adults and hopes her stories give you the goose bumps or the itchies or the desire to rethink everyday things. Margo is represented by the not-so-scary, but totally awesome, Brianne Johnson of Writers House.