---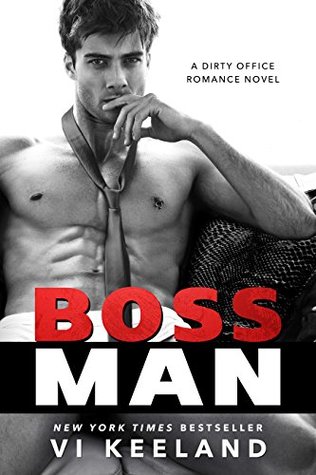 BOSSMAN
Dirty Office Romance #1
Author:
Vi Keeland
Reading Level: New Adult
Genre: Contemporary Romance
Released: July 16, 2016
Review Source: Purchased
From New York Times Bestseller, Vi Keeland, comes a sexy new standalone novel.

The first time I met Chase Parker, I didn't exactly make a good impression.

I was hiding in the bathroom hallway of a restaurant, leaving a message for my best friend to save me from my awful date.

He overheard and told me I was a bitch, then proceeded to offer me some dating advice.

So I told him to mind his own damn business―his own tall, gorgeous, full-of-himself damn business―and went back to my miserable date.

When he walked by my table, he smirked, and I watched his arrogant, sexy ass walk back to his date.

I couldn't help but sneak hidden glances at the condescending jerk on the other side of the room. Of course, he caught me on more than one occasion, and winked.

When the gorgeous stranger and his equally hot date suddenly appeared at our table, I thought he was going to rat me out.

But instead, he pretended we knew each other and joined us―telling elaborate, embarrassing stories about our fake childhood.

My date suddenly went from boring to bizarrely exciting.

When it was over and we parted ways, I thought about him more than I would ever admit, even though I knew I'd never see him again.

I mean, what were the chances I'd run into him again in a city with eight million people?Then again...

What were the chances a month later he'd wind up being my new sexy boss?
THIS BOOK IS AMAZING! I am quickly becoming obsessed with Vi Keeland's writing. I have loved every single book she has written so far. I have yet to be disappointed with her writing and Bossman is my new favorite.
The story starts with Reese standing outside of the ladies room, leaving a voicemail asking for her best friend to call back and save her from the boring date she's on. What she didn't expect was for there to be a stranger, Chase, listening behind her and then call her out on her "bitchiness". Halfway through dinner after a few casual glances at the sexy stranger, he and his date join Reese and her date. Chase makes up an elaborate story about them being old school friends and Reese's night ends on a much better note. Reese didn't think she'd see Chase again, she definitely didn't expect him to be her boss.
I LOVE CHASE. He is so witty, intelligent, and sexy! He's definitely on my favorite book boyfriend list. Vi is a genius with character development so we really get to know this complex man and what makes him tick. I also love that, for the most part, he doesn't beat around the bush, he is honest where it counts. As for Reese, I loved her too. I feel like, for me to really love a book, I have to love the heroine as much as the hero and I definitely did in this case. Although she has made some poor dating choices in the past, she can't deny the chemistry she has with Chase. She does put up a pretty good fight though not wanting repeat past mistakes. I love that she is down to earth but at the same time has a good sense of humor to go along with some of Chase's crazy "tall tales".
I'm rating this book 5 stars because I loved everything about it. There was comedy, EXTREME, PAGE SIZZLING sex appeal/tension, love, just enough angst all rolled into an incredible story. I highly recommend this book, its a favorite 2016 read.