---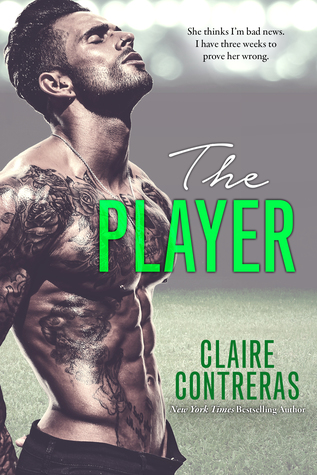 The Player
Author:
Claire Contreras
Reading Level: New Adult
Genre: Contemporary | Sports Romance
Released: October 10, 2016
Review Source: EverAfter Romance
I'm naturally gifted on the field and between the sheets. With flashy cars and enough media attention to put the Royal Family to shame, I'm the definition of Most Eligible Bachelor.

I've never met a man who doesn't want to be me or a woman who doesn't want to tame me. Until I meet Camila.

From the moment I lay eyes on her, I know I have to have her.

She wants to keep me at arm's length. I want her naked in my bed.

She thinks our worlds are too different. All I want her to think about is screaming my name.

She says I'm bad news.

I have three weeks to prove her wrong.
First things first, I have to mention the cover. This is one of THEEEEEE MOST sexy covers I have ever seen, EVER!!! Claire outdid herself with this cover. It is absolutely perfect in every way.
Next, I have never read a Claire Contreras book I didn't absolutely love and "The Player" is no different. As usual with a Claire Contreras book, I was hooked from the very beginning.
The story starts out with Belmonte, the largest real estate and investment company slapping Camila, her neighbors, and close businesses, with a 30 day eviction notice. Refusing to go out quietly, Camila, attends a meeting held at Belmonte's downtown office. It's there that she catches the attention of one of the shareholders.
Warren Silva, an international football aka soccer star and business man is returning to his home town of New York for three weeks to take care of some business. The moment he sees Camila, his world flips and he has to do anything in his power to make her his.
I love Camila and Warren. They are one of my favorite book couples! Camila is strong and feisty, and a take no bullshit type of person. She really cares for others and does so genuinely. Warren is without a doubt one of the sexiest heros I have read about to date. Everything about him, from his looks, his career, his personality, HE IS THE FULL PACKAGE! The two of them together, WOW, no words. There is so much sexual tension that I seriously needed a fan to read this book. The story is told in dual point of views, which I love because we can get inside both Camila and Warren's head.
I'm giving this story 4.5 stars because I really enjoyed reading it and I couldn't put the book down. I finished reading it in one day. I love how Claire writes, she gives you EVERYTHING. I highly recommend this book!
EXCERPT:

"Are you upset I crashed your friend-date?" he asked, his eyes searching mine.
"Would it make a difference?"
"No." He sighed, running a hand through his hair. "Maybe. This is new territory for me, Camila."
"The stalking thing?" I asked, smiling at his flustered look.
"That and . . ." he shook his head, moving close to me again, pressing me flat against the wall behind me, "this."
His free hand traveled down my spine, stopping on my ass, which he grabbed a handful of this time. My lips parted as I gasped, watching the way his eyes darkened. Our lips met at the same time, our tongues crashing in each other's mouths in a wild escapade. I wrapped my arms around his neck, willing myself closer to him. My pelvis rocking against his very pronounced erection, my bare chest covered by only the thin layer of fabric brushing against the buttons of his hard muscled chest.
"You're killing me," he whispered against my lips, taking hold of both sides of my face. "You're fucking killing me and you don't even know it."
The fire inside me spread through me, roaring through my veins with each touch, each drop of his lips on a different part of me, my shoulders, my neck, my collarbone. My stomach ached with the absolute need I felt for him.
"I don't want to want you this much," I whispered when our lips broke apart again.
His eyes searched mine, his gaze softening. "But you do."
"But I do."
"And you can't will the feeling away."
I shook my head, looking at him as if he was going to give me some kind of antidote for this. Whatever this was.
"Neither can I," he said, placing his forehead against mine. "Neither can I."
Order links:
Paperbacks: