---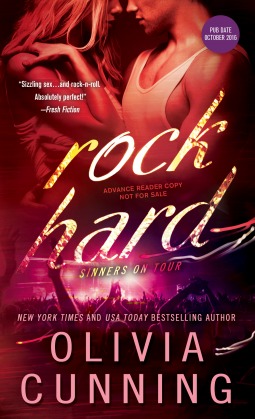 Rock Hard
Sinners on Tour #2
Author:
Olivia Cunning
Reading Level: New Adult
Genre: Erotica
Released: October 4, 2016
Review Source: Netgalley
Erotic romance is one of the bestselling subgenres in the romance category. Olivia Cunning delivers the perfect blend of steamy sex, heartwarming romance, and a wicked sense of humor.

This second in the Sinners on Tour series features lead singer Sedric Lionheart who became a playboy after his fiancee, Jessica, broke his heart. Forced on a summer tour together for two entire months, but stubbornly desperate to stay apart, they find a million steamy reasons why they had that lovin' feeling in the first place.

Praise for Backstage Pass:

"A super smokin', hot and kinky story that pushes the bounds and left me weak in the knees."

-Seriously Reviewed

"One of the best erotic romances I have read this year."

-Just Erotic Romance Reviews
This book was SCORCHING! I wouldn't expect any less from an Olivia Cunning book. This is the second book in the Sinners on Tour series.
The story starts out with Jessica mentioning her plans for going to school to follow her dreams, finish her education and become a lawyer. Sed is completely against this idea, so much so that he tells her flat out SHE'S NOT GOING. Jessica takes that controlling statement as her cue to leave and high tails it out of there. Two years later and Jessica finds herself even more financially struggling to continue with school, so she goes to a strip club to try and earn money. Sed has been trying for two years to move past Jessica. No matter what he does, she is always in the back of his mind. So, he's beyond shocked when he finds her at a strip club for Brian's bachelor party.
Sed and Jessica have an INSANE amount of chemistry. What seems like hate, quickly turns into over the charts passion. These two characters are hard not to love. I love that Jessica is so determined to follow her dreams even when her love doesn't support her in the beginning. I love her strong will. Although Sed made me want to smack him with his controlling, overbearing attitude at times, I love him. He comes off as such a prick at times but he genuinely cares about the important people in his life and his actions are based on that.
I also love the fact that Olivia let's us hang out with the other band mates even more in this story. We really get to know more about their personalities and their relationships with each other.
I'm rating this book 4.5 stars because it was an EXTREMELY SEXY book and I thoroughly enjoyed it. I was able to read it in one day because I couldn't put it down.