Welcome to our stop on
Seven Days of You
tour for Cecilia Vinesse. This tour is hosted by
The Fantastic Flying Book Club Tours
.
---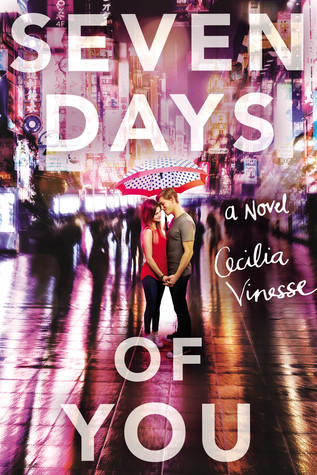 Seven Days of You
Author: Cecilia Vinesse
Reading Level: Young Adult
Genres: Contemporary Romance | Cultural
Release Date: March 7th 2017
Publisher: Little, Brown Books for Young Readers
Sophia has seven days left in Tokyo before she moves back to the States. Seven Days to say good-bye to the electric city, her wild best friend, and the boy she's harbored a semi-secret crush on for years. Seven perfect days....Until Jamie Foster-Collins moves back to Japan and ruins everything.

Jamie and Sophia have a history of heartbreak, and the last thing Sophia wants is for him to steal her leaving thunder with his stupid arriving thunder. Yet as the week counts down, the relationships she thought were stable begin to explode around her. And Jamie is the one who helps her pick up the pieces. Sophia is forced to admit she may have misjudged Jamie, but can their seven short days of Tokyo adventures end in anything but good-bye?
---
I was born in France but then moved to Japan. And then to the States. And then back to Japan. And then back to the States. When I was 18, I moved to New York where I was homesick for nearly seven years. After that, I got a job in a cold, snowy city in northern Japan and, from there, I headed to Scotland where I got my master's in creative writing and lived off tea, writer tears, and Hobnobs.
I still live in the U.K. and spend most of my time writing, reading, baking, and getting emotional over Tori Amos albums. Hobbies include pretending Buffy the Vampire Slayer is real, collecting a lipstick to match every Skittle flavor, and listening to a thousand podcasts a day.
A pup named Malfi and a Renaissancist named Rachel are my favorite things in the world. That, and books. I should probably mention the books again.