---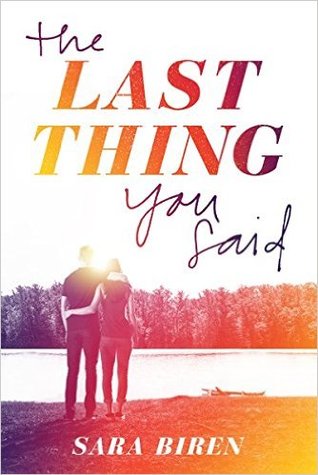 The Last Thing You Said
Author:
Sara Biren
Reading Level: Young Adult
Genre: Contemporary
Released: April 4th 2017
Review Source: Amulet Books
Last summer, Lucy's and Ben's lives changed in an instant. One moment, they were shyly flirting on a lake raft, finally about to admit their feelings to each other after years of yearning. In the next, Trixie—Lucy's best friend and Ben's sister—was gone, her heart giving out during a routine swim. And just like that, the idyllic world they knew turned upside down, and the would-be couple drifted apart, swallowed up by their grief. Now it's a year later in their small lake town, and as the anniversary of Trixie's death looms, Lucy and Ben's undeniable connection pulls them back together. They can't change what happened the day they lost Trixie, but the summer might finally bring them closer to healing—and to each other.
The Last Thing You Said
is a heartbreaking tale about two people, one who lost their best friend the other their sister, and their grief of overcoming such loss. It's about the anger, the guilt, and how to live life after they're gone. I was surprised how quickly I became mesmerized with this story, one minute I decided I would read a couple of chapters before bed, the next it was two A.M. and I was fighting off tears.
Last summer Lucy and Ben lost someone near and dear to them, Trixie. Trixie was Ben's sister and Lucy's best friend and this summer has never been harder for the both of them. Lucy has been in love with Ben for years but something happened after the funeral and they haven't been friends since. It's been hard to avoid each other since they work at the same place and Lucy babysits Ben's cousin, Emily. After all the hurting, changing, and distance they don't know if they'll ever find their way back to each other.
This story was so utterly beautiful. At first I wasn't sure if this was a story that I was going to get into or even one I would finish in two days but four chapters in and I couldn't put it down. The grief and guilt was so raw, the story was so real. My heart broke for Ben and Lucy, I could never imagine losing someone so close to me, especially at such a young age. Though while it was breaking it was slowly mending, reading about how important and full of life Trixie was. She helped Lucy be brave and bold to live a life she wouldn't have if it wasn't for her. And as much as I wanted Ben and Lucy to find their way back to each other I was rooting for their overall happiness, to live life like Trixie would've wanted them to.
This book is definitely one you'll want to throw on your TBR. It was sad and beautiful and just full of hope. I absolutely loved this book and couldn't put it down once I started. I cried and I smiled, my heart broke and then it slowly mended. I just loved it so much I didn't want it to end. I still wish I had another chapter, or five.