---
Until It Fades
Author: K.A. Tucker
Reading Level: Adult
Genre: Contemporary Romance
Released: June 27th 2017
Publisher: Atria Books
Twenty-four-year-old truck stop waitress and single mother Catherine Wright has simple goals: to give her five-year-old daughter a happy life and to never again be the talk of the town in Balsam, Pennsylvania: population two thousand outside of tourist season.

And then one foggy night, on a lonely road back from another failed attempt at a relationship, Catherine saves a man's life. It isn't until after the police have arrived that Catherine realizes exactly who it is she has saved: Brett Madden, hockey icon and media darling.

Catherine has already had her fifteen minutes of fame and the last thing she wants is to have her past dragged back into the spotlight, only this time on a national stage. So she hides her identity. It works.

For a time.

But when she finds the man she saved standing on her doorstep, desperate to thank her, all that changes. What begins as an immediate friendship quickly turns into something neither of them expected. Something that Catherine isn't sure she can handle; something that Catherine is afraid to trust.

Because how long can an extraordinary man like Brett be interested in an ordinary woman like Catherine…before the spark fades?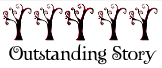 I don't know how much I've said this before, K.A. Tucker keeps getting better and better. I've been a fan of hers for years and every time she publishes a new book, I am in awe. I freaking love Until It Fades and so will you.
Nothing is as magical as a great romance story. One that can enchant and captive your attention from page one. That is what Until It Fades is about, magic. The magic of love. The magic to see good in people. The magic of goodness, of what one is capable of doing at a moment of tragic. The magic of letting go of the past and live life as it was meant to be. The magic that we need to believe. Until It Fades is magic.
Until It Fades is the story of Catherine Wright. At a young age, she did a mistake and was convicted by her family and her town. A mistake that she carries everyday. Her guilt of this mistake doesn't allow her to live as she should, to be happy. Although she tries to do her best for her young daughter, she doesn't allow to love or to be loved by a man. The scars of her past are too big.
Until an unfortunate event in which leads Catherine save the life of a man. He is a famous hockey player with a known family. She tries to keep this heroic act quiet but in a small town, things are hard to be kept as secret. Thankfully, the man she saves, Brett, is kind and wants nothing but to thank her. But when they meet face to face, the spark is ignite.
Catherine is a role model. She is strong and independent. Her unfortunate past did not keep her down. She strive and survived. With Brett, her courage and persona shine like a diamond. She forgave herself and she let go. With Brett she was able to trust and believe in love once again. These two will keep you swooning, like any other true love story.
I love Until It Fades so much. I highly recommend everyone to read it. To believe in the magic of love thru K.A. Tucker's words.
---
Born in small-town Ontario, Kathleen published her first book at the age of six with the help of her elementary school librarian and a box of crayons. She is a voracious reader and the farthest thing from a genre-snob, loving everything from High Fantasy to Chick Lit. Kathleen currently resides in a quaint small town outside of Toronto with her husband, two beautiful girls, and an exhausting brood of four-legged creatures.