---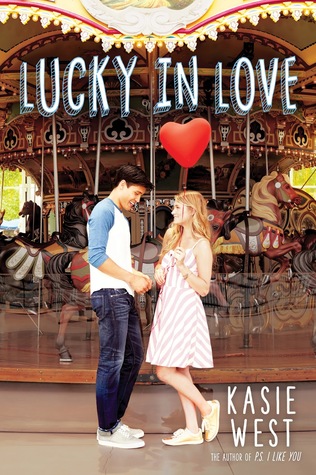 Lucky in Love
Author:
Kasie West
Reading Level: Young Adult
Genre: Contemporary
Released: July 25th 2017
Review Source: Scholastic | Edelweiss
Maddie doesn't believe in luck. She's all about hard work and planning ahead. But one night, on a whim, she buys a lottery ticket. And then, to her astonishment --

She wins!

In a flash, Maddie's life is unrecognizable. No more stressing about college scholarships. Suddenly, she's talking about renting a yacht. And being in the spotlight at school is fun... until rumors start flying, and random people ask her for loans. Now, Maddie isn't sure who she can trust.

Except for Seth Nguyen, her funny, charming coworker at the local zoo. Seth doesn't seem aware of Maddie's big news. And, for some reason, she doesn't want to tell him. But what will happen if he learns her secret?
Kasie West is easily one of my favorite YA authors. Everytime I read one her books I get lost and won't get up for anything until I'm finished. It pains me more than anything to say
Lucky in Love
wasn't one of those times. While I did still enjoy it and most definitely had everything I love in a contemporary YA, it just wasn't my favorite. Which is bound to happen when I fall so deeply for each and every one of her books.
Maddie is gearing up for graduation and waiting for her college acceptance letters to be coming any day now. She has spent her whole life trying to get to this point in her life. She had to get the grades so she could get the scholarships or else she wouldn't be able to afford to go. Her father lost his job and was having a hard time finding a new one, her brother was even taking time off from school to save up and then return, and she kept her sights on colleges nearby because of issues in her family that she couldn't help but try to fix. So on one not so great 18th birthday, Maddie goes to the convenience store to indulge in her sweet tooth when the store clerk convinced her to buy a lottery ticket. Maddie knows the odds, she knows a lot of random facts, but she went with it anyways. And low and behold she won! She was now a millionaire, she was able to afford college, help her parents out, and her brother. Her problems were officially solved, or were they?
Maddie was now in the limelight, everyone knew about her winnings, except for her crush Seth, who has been grounded from the internet and phone and would've missed all the news about a town local winning. She finds out after winning the lottery it becomes hard to find out who she can trust and since Seth doesn't know she starts to open up more to now then she had in the past. Which starts to blossom their relationship.
As I stated this wasn't exactly my favorite Kasie West book and I'm not really sure where it went wrong for me. I don't think I swooned for Seth as much as I would've loved to. Or maybe I'm just jealous I haven't won the lottery yet, but it was just something and I don't know where this book fell short with me. Again though, I did enjoy it, I loved seeing how someone would navigate winning the lottery, especially in high school where she flew under the radar until her winnings. There were times I just shook my head and said "girlllll I wouldn't do that" and times I would've splurged just like her. It was cute and though I didn't swoon for Seth, I did really like him, he had some good quips in there that I loved and wanted more of.
Nonetheless Kasie West is and always will be an autobuy author for me. I'll never get enough of her writing. She is, in my opinion, one of the best contemporary YA authors out there. She never fails at getting me out of a reading slump and making me fall in love all over again.