---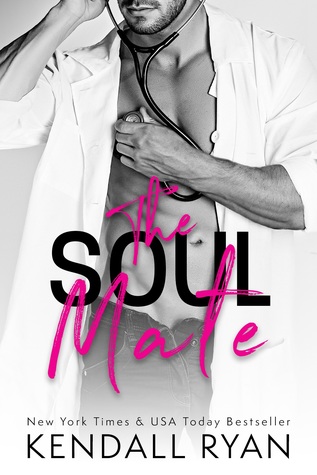 THE SOUL MATE
Roommates #4
Author: Kendall Ryan
Reading Level: New Adult
Genre: Contemporary Romance
Released: August 14, 2017
From New York Times Bestseller Kendall Ryan comes a sexy new stand-alone novel in her Roommates series.

The smoking-hot one-night stand I was never supposed to see again?

Yeah, well, I might be pregnant, and he's my OB-GYN.

Get ready to fall head over heels madly in love with the hottest OBGYN doctor you have ever met! This full-length standalone contains the most hilariously awkward lady-doctor visit, lots of playful banter and some good ol' fashioned baby-makin'!
I love Kendall Ryan books! Every one hooks you from the start and takes you on an awesome journey. I am not a big pregnancy during the book fan. Normally I wouldn't pick it up, but I have loved this series so far and decided to give it a shot.
This story starts out with an incredible one night stand. Mason, the amazing hero (which has been added to my book bf list) is obsessed with Bren from that moment but she doesn't leave anything AT ALL behind. Jump forward several weeks and she shows up as his new OB patient coming in for a pregnancy test.
I was a huge Mason fan during the whole book. He is pretty much what book boyfriends dreams are made of. He's sexy, sweet, and a doctor. Basically, the total package. I love Bren also but not as much as Kendall's other heroines. I love her fierce independence and personality in general but her stubborn streak made me want to shake some sense into her at the same time.
This story can be read as a standalone as well as the other stories in the series but I do recommend reading the whole series because the books are really good. This was a quick, light read and I was able to read it in one sitting. I'm rating this book 4 stars because I liked it a lot and would recommend it. It switched up the babies in books for me a little bit which I liked.
A New York Times, Wall Street Journal, and USA Today bestselling author of more than two dozen titles, Kendall Ryan has sold over 1.5 million books and her books have been translated into several languages in countries around the world. She's a traditionally published author with Simon & Schuster and Harper Collins UK, as well as an independently published author. Since she first began self-publishing in 2012, she's appeared at #1 on Barnes & Noble and iBooks charts around the world. Her books have also appeared on the New York Times and USA Today bestseller lists more than three dozen times. Ryan has been featured in such publications as USA Today, Newsweek, and InTouch Magazine.