---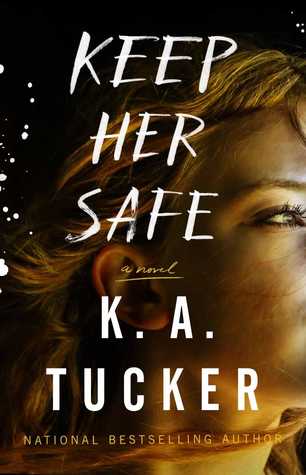 Keep Her Safe
Author: K.A. Tucker
Reading Level: Adult
Genre: Contemporary Romance
Released: January 23rd 2018
Publisher: Atria Books
Making a Murderer meets Scandal in this story of police corruption, family secrets, and illicit affairs from bestselling author K.A. Tucker, celebrated for her "propulsive plot twists and searing seduction" (USA TODAY).

Noah Marshall has known a privileged and comfortable life thanks to his mother, the highly decorated chief of the Austin Police Department. But all that changes the night she reveals a skeleton that's been rattling in her closet for years, and succumbs to the guilt of destroying an innocent family's life. Reeling with grief, Noah is forced to carry the burden of this shocking secret.

Gracie Richards wasn't born in a trailer park, but after fourteen years of learning how to survive in The Hollow, it's all she knows anymore. At least here people don't care that her dad was a corrupt Austin cop, murdered in a drug deal gone wrong. Here, she and her mother are just another family struggling to survive...until a man who clearly doesn't belong shows up on her doorstep.

Despite their differences, Noah and Gracie are searching for answers to the same questions, and together, they set out to uncover the truth about the Austin Police Department's dark and messy past. But the scandal that emerges is bigger than they bargained for, and goes far higher up than they ever imagined.

Complex, gritty, sexy, and thrilling, Keep Her Safe solidifies K.A. Tucker's reputation as one of today's most talented new voices in romantic suspense.
K.A. Tucker is a favorite author of mine. She has a talent to captive me with her stories from the very first page. And Keep Her Safe is another book to say I really enjoyed.
Keep Her Safe follows the story of another police corruption. Yet like other stories, we have two main characters, in which we read their POV's and we follow their thought and ways of discovering hidden secrets. It's a suspenseful story that will go back to the past to give you hints of what went down years ago, and how an innocent cop was named corrupted. Although it was thrilling, the story is a bit predictable of who is the killer and what the secret is. But don't let this fool you because our main characters, Gracie and Noah, will keep you on your toes.
Gracie is determine firecracker, in which you cannot say no to. She knows what's right from wrong and is willing to follow her heart with no hesitation. As for Noah, he is a sweet hottie. He's been thru so much and you will have a soft spot for him right away. But what will make you fall in love with him is dedication to help others, even when he needs help. These two will make have you swooning left and right. Even though their romance was built - slowly but surely. It was very realistic and raw.
As I mentioned, the story is a predictable but it's still enjoyable. You still get your twist and turns, your lies and betrayals. It's a story you don't want to miss out!
---
Born in small-town Ontario, Kathleen published her first book at the age of six with the help of her elementary school librarian and a box of crayons. She is a voracious reader and the farthest thing from a genre-snob, loving everything from High Fantasy to Chick Lit. Kathleen currently resides in a quaint small town outside of Toronto with her husband, two beautiful girls, and an exhausting brood of four-legged creatures.