---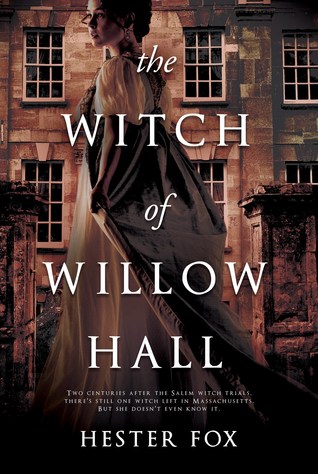 The Witch of Willow Hall
Author:
Hester Fox
Reading Level: Adult Fiction
Genres: Gothic | Historical | Mystery
Released: October 2nd 2018
Review Source: Graydon House via Netgalley
For fans of The Rules of Magic by Alice Hoffman, A Secret of Witches by Louisa Morgan and The Haunting of Maddie Clare by Simone St.James comes an addictive historical debut about strange power, fierce love, family secrets, and how the past haunts us in ways that demand to be seen.

When a scandal sends the affluent Montroses fleeing from their home in Boston and into rural seclusion at the stately Willow Hall, daughter Lydia resents the move. Especially when it becomes obvious that Willow Hall hides dark secrets that no one in the Montrose family anticipated. And when tragedy strikes, the sinister presence lurking in the house and its surrounding woods starts encroaching on the Montrose's lives. Summoning powers she barely understands, Lydia must engage the forces around her to keep her family safe, while protecting the blossoming love she has with her father's handsome business partner, John—who has secrets of his own.
The Witch of Willow Hall
is a gripping historical fiction with the elements of a classic Gothic novel including thrills, chills, magic and drama. It reminded me of mash-up between
The Scarlet Letter
and
Jane Eyre
with the magic of
Harry Potter
or
The Raven Boys
thrown in. I truly enjoyed this book.
The Witch of Willow Hall
takes place in the 1800s, after the Salem witch trials. When scandal surrounds Lydia Montrose's family, they is forced to flee Boston, and while it's her sister's fault she feels as if she is branded too, like Hester Prynne tarnished those who associated with her in The Scarlet Letter. In the country she discovers a new part of herself, something she thought she left buried as a child, something that scares her. It was really Lydia and her willful obtuseness which frustrated me the most while reading. She would acknowledge her powers or something that happened then turn around and make excuses, pretend it never happened and act surprised when someone else doesn't ignore them as she does. I'm a big fan of character development and I felt that besides Lydia and her sister, John Barret is the only other character with any sort of development. All others seemed static and shallow in comparison.
I loved the mystique of Willow Hall and John Barrett (tall, dark, handsome and brooding...yes, please!) and the overall story was very engaging, but it also felt more like a book to the beginning of a series or duology and many things were left unanswered or open as the book was quickly ended after a long build-up. But there was a great romance in the story which reminded me of those found in the classics like Austen or Brontë novels.
The Witch of Willow Hall
is a quick and engaging read for anyone who like historical novels with a Gothic and magical twist that keeps you guessing.
---
"Hester Fox's THE WITCH OF WILLOW HALL offers a fascinating location, a great plot with history and twists, and characters that live and breathe. I love the novel, and will be looking forward to all new works by this talented author!" --Heather Graham,New York Times bestselling author

"Beautifully written, skillfully plotted, and filled with quiet terror, readers will devour this absorbing, Gothic tale of romance and suspense. Perfect for fans of Simone St James and Kate Morton." -- Anna Lee Huber, the national bestselling author of the historical Lady Darby Mysteries

"Beautifully written, with an intriguing plot full of suspense and mystery, The Witch of Willow Hall will cast a spell over every reader." -- Lisa Hall, author of Tell Me No Lies and Between You and Me

"I was entranced by this intriguing and spellbinding novel with its messages of love and loyalty and being true to who you really are. I hope Hester Fox goes on to write many more such novels--I for one will be buying them." -- Kathleen McGurl, author ofThe Girl from Ballymor
"With its sense of creeping menace and chilling undertones, this compelling story had me gripped from the first page. The vividly drawn characters cast their spell so convincingly, I couldn't stop reading until I discovered what happened to them. A wonderful debut novel."--Linda Finlay, author of The Flower Seller