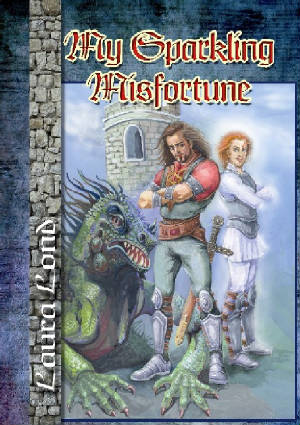 My Sparkling Misfortune
Author: Laura Bond
Pages: 70 eBook
Reading Level: Children's
Released July 20, 2010
My Stars: 3 stars
I thought this book was very interesting! It was based on a Villain Lord named Arkus. Arkus was determined to catch a Garmack, which is an evil lizard. If caught, this creature would become his servant. The only way you can catch a Garmack is if it swims in the lake and turns human. Instead of catching the lizard Arkus catches a Sparkling, which is a good lizard that helps Kings. The Sparkling becomes his servant! He names his Sparkling Jarvi. Jarvi has specials abilities, which Arkus uses only for necessity.
My favorite character in this book is Arkus. Even though he is a villain he is very funny! My overall thought on the book was that it was very different from most other books I've read. This book was more of an action packed fairytale, rather than a princess fairytale. That is why it was so very interesting to me!
Synopsis: Lord Arkus of Blackriver Castle readily admits that he is a villain and sees no reason why it should stop him from being the protagonist of this book. After all, Prince Kellemar, an aspiring hero, has defeated him in a rather questionable way. Bent on revenge, Arkus attempts to capture a powerful evil spirit who would make him nearly invincible, but a last-minute mistake leaves him with a sparkling instead a goody-goody spirit that helps heroes, watches over little children, and messes up villains plans. Bound to Lord Arkus for five years of service and sworn to act in his best interests, the sparkling is not easy to get rid of, and of course his understanding of best interests is quite different from what Lord Arkus has in mind.
Thank you to Dream Books LLC for the eBook.
Reviewed by Lily (10 Years old)