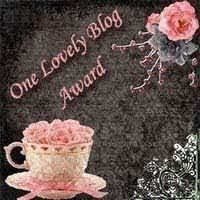 A big Thank you to
Kimberly at in the Outhouse
for giving Once upon a Twilight this new award.
What has to be done for the One Lovely Blog Award is:
Accept the award. Post it on the blog with the name of the blog who has granted the award and the blog link.
Pay it forward to 15 other bloggers that have been newly discovered.
Contact those blog owners and let them know that they have been chosen.
Here is the list of Blogs we have chosen as One lovely Blog:
A big Thank you to
Tina at Book Couture
for giving Once Upon a Twilight this new award.
Here is what has to be done for Life is Good Award:
Thank and link back to the blog that gave you this award.
Answer the 10 survey questions
Pass the award along to 15 bloggers who you have recently discovered and who you think are fantastic.
Contact the bloggers you've picked to let them know about the award.
Here are the Questions:
If you blog anonymously are you happy doing it that way; if you are not anonymous do you wish you had started out anonymously so you could be anonymous now?

I like everyone to know who is behind Once Upon a Twilight.

Describe one incident that shows your inner stubborn side: I

n the blog world I don't believe I have one, now in real life hmmm... My mom says I'm stubborn when she explains to me I have issues when it comes to matching clothes by color.

What do you see when you really look at yourself in the mirror?

I see someone who has found her calling and its in books and the worlds we read about!

What is your favourite summer cold drink?

Fresh squeezed lemonade.

When you take time for yourself, what do you do? go to the bookstore or go get a Pedi/mani done.
Is there something you still want to accomplish in your life? What is it?

I want to continue with my medical studies. Somewhere in the Cardiovascular field doing Doppler's or Stress test. The heart fascinates me.

When you attended school, were you the class clown, the class overachiever , the shy person, or always ditching?

I was the athlete in school. I played Soccer, Softball and Volleyball.

If you close your eyes and want to visualize a very poignant moment of your life what would you see?

The day when both of my boys were born.

Is it easy for you to share your true self in your blog or are you more comfortable writing posts about other people or events?

Its easy for me just to be me, I love that there are a few of you out there that actually care to read what I write about, be it a book review or one of my Twilight Adventures.

If you had the choice to sit down and read or talk on the phone, which would you do and why?

I would sit down and read all day long, because its just makes me Happy to be lost in to the book I'm reading.
Now here is my list for Life is Good award: