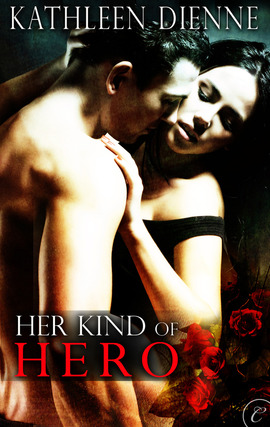 Her Kind of Hero
Author:
Kathleen Dienne
Pages: ebook
Reading Level: Adult
Released: November 22nd 2010
Review copy from Netgalley
This book took me for a ride. The combination of mystery, love and fornication is a trio I can't get enough of. This book has all three and is so well written that even the ending was awesome. Something I did not expect. The author did not make such a great deal about the dead husband but describes him in some detail, which was something I liked. Vanessa personality is very funny, in which I can relate. I was annoyed with Anthony, just as Vanessa because of his ignorance and pushy nature. Frustrated at first with Derek because of his celibacy but in love at the end because of his companionship and kindness. I was able to relate to each character as if I was Vanessa. I thought that was amazing writing from the author. Overall, this will not be my last book from Kathleen Dienne and I look forward to reading many more books from this great author. I recommend this book.
Synopsis:

Young widow Vanessa Bingham is ready to stop mourning. She misses the intimacy and tenderness of a man's touch. It's obvious her old friend Derek Lane wants her, so why does her first attempt at seduction cause him to flee?
Kissing her is a dream come true.
Derek has been in love with Vanessa forever. His feelings have kept him from having a serious relationship—or a casual one—with any other woman. So when she finally turns to him, he doesn't want to settle for being friends with benefits. But Vanessa is a hard woman to resist for long...
Someone doesn't want them kissing at all.
Just as things with Derek begin heating up, disturbing photos start to arrive at Vanessa's door. Someone is watching her every move: someone she may know. Terrified by the stalker's very real threats, Vanessa soon realizes that Derek may be just the hero she needs after all.