---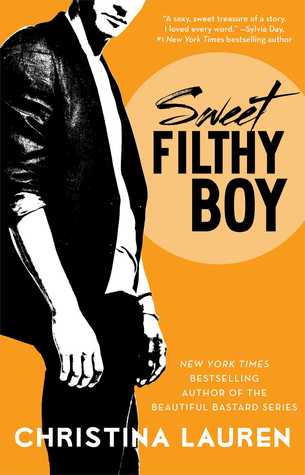 Sweet Filthy Boy
Wild Seasons #1
Author:
Christina Lauren
Reading Level: Adult | New Adult
Genre: Contemporary Romance
Release Date: May 13th 2014
Review Source: Gallery Books
The New York Times bestselling author of Beautiful Bastard, Beautiful Stranger, and Beautiful Player starts a brand new story of friends, love, and lust with Book One of the Wild Seasons series.

One-night stands are supposed to be with someone convenient, or wickedly persuasive, or regrettable. They aren't supposed to be with someone like him.

But after a crazy Vegas weekend celebrating her college graduation—and terrified of the future path she knows is a cop-out—Mia Holland makes the wildest decision of her life: follow Ansel Guillaume—her sweet, filthy fling—to France for the summer and just…play.

When feelings begin to develop behind the provocative roles they take on, and their temporary masquerade adventures begin to feel real, Mia will have to decide if she belongs in the life she left because it was all wrong, or in the strange new one that seems worlds away.
My New Favorite Christina Lauren Book To Date!
Sweet Filthy Boy
doesn't give you time to warm up. You immediately hop in the car with characters that feel like they are your best friends and your headed towards the best time of your life. Everyone knows the saying "What happens in Vegas, stays in Vegas!" and as cliche as it sounds it's not when you hit the strip with Mia, Lola and Harlow. And sure enough something does go down with this trio.
Mia, Mia, Mia. I guess if you do decided in Vegas to have a one-night stand (and get married a-la-Elvis) and have do the walk of shame, picking a guy like Ansel, makes it worth it 110%. I know you ladies will agree with me after you read
Sweet Filthy Boy
.

You just don't read about guys like Ansel lately. The duo really won me over with his character and personality. Guys like that are hard to come by in real life, the kind that actually motivate you and push you to be amazing. The ones that don't have a selfish bone in their body. The ones that nurture and take care of their women without taking away from her independence. THAT IS ANSEL! Ansel has become my all time fave fictional crush now. Well done Christina and Lauren. Of course Ansel brings plenty of sexy and hot to this book along with his amazing personality!!!
When events from the previous night begin take shape again in Mia's memory she doesn't know what the heck she is going to do to fix it. Mia and Ansel are married and apparently Ansel doesn't have any plans of getting the marriage annulled. Mia told him not to the night before while she was under the influence of a few adult beverages, so Ansel plans to keep his promise to Mia.
So how do Mia and Ansel go from Vegas hook-up to France? Your going to have to read Sweet Filthy Boy to find out. What would make or convince Mia to follow Ansel out to France for the whole summer just before she is to start her new life & career. The things we ladies do for hot boys, lol! Well there is more to the story that Mia just following Ansel and having hot-mind-blowing-sexy times. All I'm saying is Vomit + Ansel= A Keeper for Life!!! Yup, probably caught your attention with that, again I repeat myself read the book. I promise you that you will fall hopelessly in love with the first book in the Wild Season series. I know I did.
Be prepared for the best laugh-out-loud-sexy-times-romantic story you will go goo-goo ga-ga for the minute you crack the pages open. Cannot wait to get my hands on Dirty Rowdy Thing next. Christina Lauren continue to surprise me every new book they give us and have yet to disappoint me.
---
So honored to have been blurb in
Sweet Filthy Boy
. I can't wait for everyone to read this book!