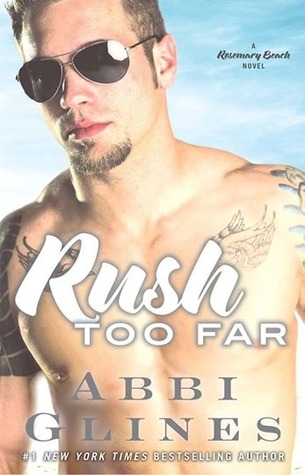 Rush Too Far
Rosemary Beach #4
Author: Abbi Glines
Reading Level: New Adult
Genre: Romance
Released: May 6th 2014
Review Source: Atria Books
Fallen Too Far was Blaire's story. Now it's time for Rush to share his side.

Everyone in Rosemary Beach thinks they know how Rush Finlay and Blaire Wynn fell in love. But Rush is back to tell his side of the story...

Rush has earned every bit of his bad-boy reputation. The three-story beach house, luxury car, and line of girls begging for time between his sheets are the envy of every guy in Rosemary Beach, and Rush handles it all with the laid-back cool of a rock star's son. All he needs are his best friend, Grant, and his sister, Nan.

Until Blaire Wynn drives into town in her beat-up pickup truck with a pistol under her seat. The Alabama farm girl instantly captures Rush's attention once he discovers that the angelic beauty is his new stepsister, but he vows to keep his distance. Even if she needs his help. Even if he craves her.

Because Rush knows why Blaire is all alone in the world, forced to ask for help from the father who abandoned her three years ago. And he knows if he gets too close it will destroy Nan, who has a secret connection to Blaire.

He has every reason in the world to stay away from her. Find out why he doesn't.
Hold the phone! Rush and Blaire are back? AND it's all about Rush now? Oh help me now my Rush Crush is back with full force. Were taken back to the very beginning, back to when Blaire walked into Rush's life and changed him completely. We get taken straight back to where Fallen Too Far begins, but we get his side now.
Rosemary Beach series is my favorite series from Abbi Glines and Rush is my absolute favorite guy (so far, Tripp make try and steal it) in the series and I was super stoked to get to see his life change the day Blaire walked into his life. But when we get Rush we unfortunately have to get Nan, and Nan is a character that I could definitely wish I could put on a permanent mute, definitely president of the Nan Hater Club. So basically other than having to deal with Nan it was so nice to get revisit their story again. In Fallen Too Far and Rush Too Far we get introduced to the first couple in the Rosemary Beach series, Blaire and Rush. Rush tries his hardest to fight his feelings for Blair because her connection to his sister Nan. Blaire wants Rush more than anything and tries to break Rush. When secrets are involved things get messy, and we go on one kind of ride with these two.
If you've read the Blaire and Rush's story in Fallen Too Far, Never Too Far, and Forever Too Far I definitely think need to pick this up. If you haven't read any of the titles listed above I suggest you get and them now.