---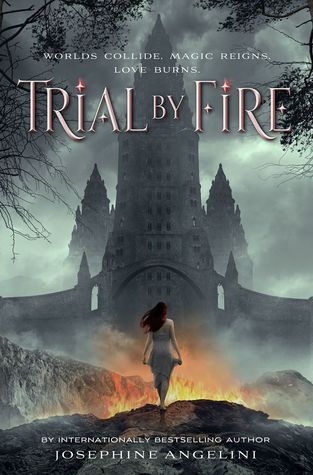 Trial by Fire
The Worldwalker Trilogy #1
Author:
Josephine Angelini
Reading Level: Young Adult
Genre: Supernatural | Paranormal | Fantasy
Release Date: September 2nd 2014
Review Source: Feiwel & Friends
This world is trying to kill Lily Proctor. Her life-threatening allergies keep her from enjoying experiences that others in her hometown of Salem take for granted, which is why she is determined to enjoy her first high school party with her best friend and longtime crush, Tristan. But after a humiliating incident in front of half her graduating class, Lily wishes she could just disappear.

Suddenly, Lily is in a different Salem—one overrun with horrifying creatures and ruled by powerful women called Crucibles. Strongest and cruelest of them all is Lillian . . . Lily's other self in this alternate universe.

In Josephine Angelini's Trial by Fire, what makes Lily weak at home is what makes her extraordinary in New Salem. In this confusing world, Lily is torn between responsibilities she can't hope to shoulder alone and a love she never expected.
Trial by Fire
as of today is my favorite YA book of 2014. What a stellar book to read. I was completely memorized from beginning to end. Days later I still can't stop thinking about what I read and the ending. Picturing all these scenarios for the next book that I wished I could magically make it appear in my hands already. Angelini really outdid herself when she created this new world full is magic and witches and creatures that go bump in the night. I loved her writing already from her Starcrossed series but this new series just sealed the deal in blood.
The one thing that I do when I begin to read supernatural or paranormal themed books is, I ask myself can I picture every details like if it was a movie? And without a doubt
Trial by Fire
would be perfect for Hollywood. So many elements that would transfer over to the big screen but the fantastic storyline. Hollywood could go to town with the special effects. I truly recommend this book to anyone young or old, male or female. I think it's powerful enough to convert a contemporary romance reader to like paranormal/supernatural. The combination of strong story, tough heroine and amazing world really does enamor the reader.
Trial by Fire
follows the life of Lily Proctor. Poor Lily hasn't had an easy life. She suffers from so many illness and allergies that anything triggers an attack or she gets sick for days. Her friends and family protect her nonstop but one night it's just not enough and Lily is crushed and gets so ill she is ready to give up. But their is this voice in her head which is very convincing and before you know it Lily is no longer in the Salem she has known all her life. She has been jumped to a different Salem with creatures and things she never imagine could exist. Oh and did I mention the voice in her head was the Lily or Lillian from that world that needed her and magically brought her over. Turns out the Lillian from that version of Salem is a powerful crucible and she is the strongest of them all. Her say is the law or you pay the consequences. But thing is Lillian is sick now and brought Lily over for a purpose. Of course Lillian didn't plan for Lily to create her own path and assumptions and that lead her to Rowan (swoon) that at first wasn't a believer but them everything changed and Lily with Roman help must save that world from Lillian. That's all the input your getting from me. Anymore and I start giving key elements away.
Trial by Fire
will win you over like it did me. I can't remember the last book about witches and Magic that won me over so hard and easily. I cannot wait to read the sequel after such an ending. I need more Lily and Rowan in my life. A must read for 2014!