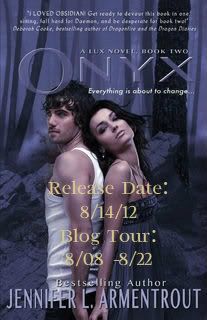 Super excited to be the next stop in the Onyx Blog Tour for the very talented Jennifer L. Armentrout. We are HUGE fans of Jennifer and will just about post anything by, from or about her and her books. So without further hold on here is the feature for today and stay tuned afterwards for a great giveaway. A BIG CONGRATS to Jennifer, Onyx debut on the USA Today Bestsellers list at #93. Throws Confetti, its well deserved!!!
About the Author:
USA Today Bestselling Author Jennifer lives in Martinsburg, West Virginia. All the rumors you've heard about her state aren't true. When she's not hard at work writing, she spends her time reading, working out, watching really bad zombie movies, pretending to write, and hanging out with her husband and her Jack Russell, Loki.
Her dreams of becoming an author started in algebra class, where she spent most of her time writing short stories....which explains her dismal grades in math. Jennifer writes young adult paranormal, science fiction, fantasy, and contemporary romance. She also writes adult romance under the name J. Lynn.
---
Ten Signs You're Dating an Alien
1.Your significant other eats a lot but never gains a pound. And when I say eats a lot, no food group is safe around them. Especially anything sugary.
2.When your significant other says they're visiting "home" and when you ask where, they don't have a zip code for you, then you're probably dating an alien.
3.Your boyfriend or girlfriend moves so fast that you don't even see them actually move? Not a vampire. But an alien.
4.If you're pretty positive that your boyfriend or girlfriend actually fades out, you don't need your eyes checked. They're an alien
5.Emotions are running high and you see your significant other's pupils start to glow white, you're not crazy. He/She is a very unhappy… or very happy alien.
6.You fall and scrape your knee. Owie! Your boyfriend heals the boo boo with a touch of his fingers. You're dating an alien and he's in a lot of trouble.
7.If in the middle of a very hot make out session, every electrical device is the house is zapped? Yes. You're both just that hot, but your significant other is throwing off enough electrical charges to take out a power grid.
8.Some creepy dude wearing dark sunglasses is constantly trying to kill your boyfriend/girlfriend, you're dating an alien…or your boyfriend/girlfriend has a stalker.
9.Men in Black are constantly visiting your significant other's house.
10.And finally, if your boyfriend lights up like a glow worm, you're dating an alien.
---
Onyx
Lux #2
Author: Jennifer L. Armentrout
Reading Level: YA
Genre: Paranormal/Fantasy
Released: August 14th 2012
Publisher: Entangled Publishing
Available:
Amazon
•
Barnes & Noble
OUaT Reviews:
Obsidian
•
Onyx
Summary: (from Publisher)Being connected to Daemon Black sucks…



Daemon's determined to prove what he feels for me is more than a product of our bizarre connection. I've sworn him off even though he's running more hot than cold these days. But against all common sense, I'm falling for him. Hard.

Our relationship issues aren't out biggest problem…

The Department of Defense is here. If they ever find out what Daemon can do and that we're linked, I'm a goner. So is he. And when a new boy shows up a school with a secret of his own, things get complicated fast. I need to choose between my own instincts and Daemon's.

But then everything changes…

I've seen someone who shouldn't be alive. Daemon's never going to stop searching until gets the truth. What happened to his brother? Who betrayed him? And what does the DOD want from them—from me?

No one is who they seem. And not everyone will survive the lies.
---
---
Hope you found this post exciting, because its about to triple the excitement now on here. Thanks to Entangled Publishing we can offer one winner today a chance at winning Obsidian and Onyx from Jennifer. See I told you to stick around.
a Rafflecopter giveaway