Welcome to our stop on
Not In The Script
tour for Amy Finnegan. This tour is hosted by
Jean Book Nerd Blog Tours
.
---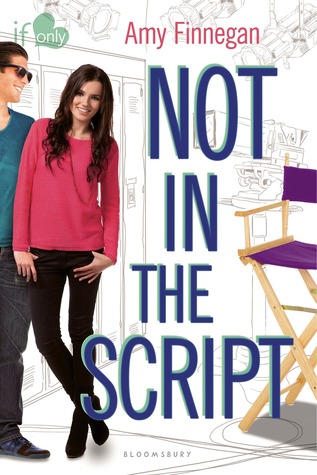 Not in the Script
If Only #3
Author: Amy Finnegan
Reading Level: Young Adult
Genre: Romance | Realistic Fiction
Released: October 7th 2014
Review Source: Bloomsbury Children's
Millions of people witnessed Emma Taylor's first kiss—a kiss that needed twelve takes and four camera angles to get right. After spending nearly all of her teen years performing on cue, Emma wonders if any part of her life is real anymore . . . particularly her relationships.

Jake Elliott's face is on magazine ads around the world, but his lucrative modeling deals were a poor substitute for what he had to leave behind. Now acting is offering Jake everything he wants: close proximity to home; an opportunity to finally start school; and plenty of time with the smart and irresistible Emma Taylor . . . if she would just give him a chance.

When Jake takes Emma behind the scenes of his real life, she begins to see how genuine he is, but on-set relationships always end badly. Don't they? Toss in Hollywood's most notorious heartthrob and a resident diva who may or may not be as evil as she seems, and the production of Coyote Hills heats up in unexpected—and romantic—ways.

This novel in the deliciously fun If Only romance line proves that the best kinds of love stories don't follow a script.
I want to scream at the top of my lungs and tell everybody that this book was really really good. The best book of this month that I have read. Even thought it's a Young Adult book I really enjoyed it and would recommend it to everybody. When you were reading the book it left you feeling so warm and fuzzy inside and you were cheering on the characters. It was like you were standing next to them in the story and living what they were going through.
The main characters of the book that you will hear a lot about it Emma, Jake, Kimmi, Rachel, and Brett. You will meet a girl that everybody knows because she is a famous actress named Emma. Her best friend Rachel wants Emma life because she should of had that life but didn't make it through the auditons because she was sick. So Rachel is loving Emma life because she can go to all the premires and the after parties. She gets to meet all these famous actresses and actors. Well a new tv show is coming up and Emma finds out her biggest crush Brett will be one of the main characters. Her mother which is her manager tells her to not get involved with anymore actors because they never work out. When she gets to the set she finds out that Brett isn't really that great. Until Jake walks in. She starts laughing because her best friend Rachel loves him in his modeling ads. Well she tells Rachel and she wants Emma to get to know him and try to set her up with him. Until Emma starts hanging out with him and she realizes that she really likes him. But they can't see each other because it would complicate things plus her best friend likes him a lot.
I don't want to tell you anymore because it will give things away. It really is a great book that is a page turner and you will love it so much. I would recommend it to my daughters to read. I read the book in a day or so. I couldnt' put it down.
Excerpt #1 - NOT IN THE SCRIPT
From Jake's point of view, page 156:
Studying a script for at least an hour every night doesn't fit well with my regular workout schedule, so now I do my core work while memorizing lines—which is why I'm in the middle of crunches, and only wearing gym shorts, when Emma shows up on my porch Tuesday night.
"Um . . . hello," she says, her wide blue eyes finally darting from my bare chest to my face. "I saw a sign today that sort of worries me. That river behind us is called Rattlesnake Creek, so does that mean . . . ?"
"Didn't we already have this talk about Arizona?" I ask.
"Yes, but I didn't expect snakes to be . . . you know, waiting outside my kitchen door. Like stray cats."
"Well, if you're worried about them going hungry, you could always toss them a few raw eggs," I say, not sure if I should invite her in or not. After thinking about her and Brett all day, I'm leaning toward not. But I also can't stop thinking about the way Troy must've treated her. "Other than that, you just have to be careful. Stay on the path, watch where you step."
Emma shivers. "Holy. Freaking. Crap."
I shrug. "I guess, if it would make you feel better, I could try to . . . I don't know, herd them back into the mountains? I might've done a merit badge for that in Scouts."
Emma laughs and she has me, right there. I can't stay away from her.
---
Amy Finnegan writes her own stories because she enjoys falling in love over and over again, and thinks everyone deserves a happy ending. She likes to travel the world—usually to locations where her favorite books take place—and owes her unquenchable thirst for reading to Jane Austen and J.K. Rowling. Her debut novel, NOT IN THE SCRIPT (Bloomsbury, Oct 2014), came about after hearing several years of behind-the-scenes stories from her industry veteran brother. She's also been lucky enough to visit dozens of film sets and sit in on major productions such as Parks and Recreation, and Parenthood.
Giveaway is open to International. | Must be 13+ to Enter
1 Winner will receive a $50.00 Amazon Gift Card.
3 Winners will receive a $25.00 Amazon Gift Card.