Welcome to our stop on Salt & Storm tour for Kendall Kulper. This tour is hosted by Rockstar Book Tour.
---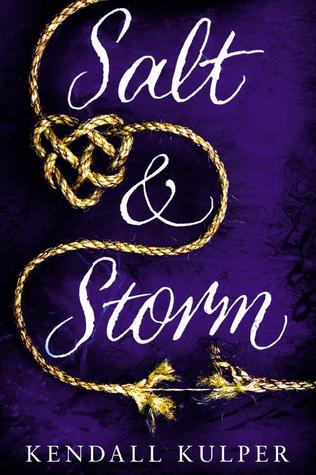 Salt & Storm
Author: Kendall Kulper
Reading Level: Young Adult
Genre: Paranormal | Witches
Released: September 23rd 2014
Review Source: Little, Brown Books for Young Readers
A sweeping historical romance about a witch who foresees her own murder--and the one boy who can help change her future.

Sixteen-year-old Avery Roe wants only to take her rightful place as the witch of Prince Island, making the charms that keep the island's whalers safe at sea, but her mother has forced her into a magic-free world of proper manners and respectability. When Avery dreams she's to be murdered, she knows time is running out to unlock her magic and save herself.

Avery finds an unexpected ally in a tattooed harpoon boy named Tane--a sailor with magic of his own, who moves Avery in ways she never expected. Becoming a witch might stop her murder and save her island from ruin, but Avery discovers her magic requires a sacrifice she never prepared for.
Salt & Storm killed me! I was devastated with the outcome. My poor little heart was full of hope only to be crushed, thanks Kendall.
Right from the beginning, I found Salt & Storm interesting. As a fan of stories about witches, I loved how unique these witches were. These Roe witches have their own abilities. How cool is that? Even though I was fascinated with their abilities, these awesome abilities come from a curse. A devastating curse: one that the most important thing in life must be sacrifice. Our protagonist, Avery, is able to predict dreams. Unfortunately for her, this gift is unable to help her escape from her mother. Held captive to a non-magical life, Avery seeks help from her only friend only to find out that her mother is clever enough to put a spell upon anyone close to her. Comes Tane, a mysteries and broken boy, whom is seeking Avery's abilities to uncover the truth of his past. Slowly, we see how these two are meant for each other and how both help each other to become a better person.
This story slowly develops to an unpredictable ending. I was seriously crushed. I couldn't believe it, I still cannot. I was embraced with Avery and Tane relationship that I didn't see the twist of the story unfold. These two are seriously cute and perfect for each other. Tane helped Avery see how much life has to offer. And Avery brought Tane back to life. She was his reason for living.
Though I am crushed with the ending, I recommend this book to fans of paranormal. Kendall's writing is beautiful and will keep you entertained for hours.
---
Kendall Kulper writes historical fiction with a fantasy twist for teen readers and knows more about nineteenth century whaling than she ever imagined. Her debut YA novel, SALT & STORM will be published by Little, Brown September 23, 2014. She graduated from Harvard University with a degree in history and literature in 2008 and spent several years as a journalist before deciding to write full-time. She grew up in the wilds of New Jersey and now lives in Boston with her husband and chronically
a Rafflecopter giveaway
Week Two:
9/22/2014- Supernatural Snark- Interview
9/22/2014- About to Read- Review
9/23/2014- The Cover Contessa- Guest Post
9/23/2014- Imaginary Reads- Review
9/24/2014- Fire and Ice- Guest Post
9/24/2014- Once Upon a Twilight- Review
9/25/2014- Tales of the Ravenous Reader- Interview
9/25/2014- The Best Books Ever- Review
9/26/2014- Two Chicks on Books- Guest Post
9/26/2014- Tynga's Reviews- Review