---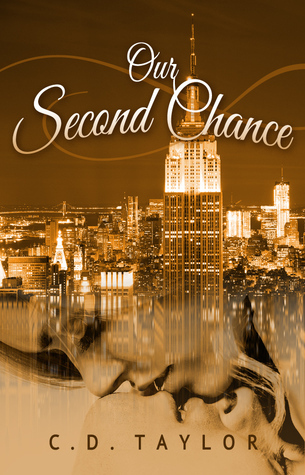 Our Second Chance
Come Back to Me #1
Author: C.D. Taylor
Reading Level: Adult
Genre: Contemporary Romance
Released: February 16th 2013
Our Second Chance by Author C.D. Taylor is a tale of forgiveness, redemption, and love. It demonstrates how the power of healing can strengthen the bond between family, friends, and lovers.
Emily Mills lives a life of opulence and luxury in Los Angeles but can't shake the feeling that there is something more out there for her. It isn't the picture perfect life her social circles expect and she knows something is missing. Unwilling to let happiness be a distant wish, she boards a plane to chase her dreams of becoming a lawyer in New York City. It doesn't take long for her past to reappear with her former best friend from college, Jake Bradford. Knowing the feelings she's held for Jake all these years, she still tries to convince herself that she isn't worthy of any sort of love from him. Conceding to a fraction of her desire, Emily strikes a deal with Jake to become steamy friends with benefits. Soon her passionate bond with him turns out to be way more intense than she expects and she finds herself wishing her emotional scars didn't rear their ugly head and destroy everything she's worked for.
Can Emily forgive herself and those who had hurt her in the past to become the person she knows she can be? Or will the roadblocks in front of her cause her to make the decision to run like she's been doing most of her life? Book 1 of this thrilling new 3 book series will leave you panting for more and cheering for second chances.
This book may be unsuitable for people under 17 years of age due to its use of sexual content, drug and alcohol use, and/or violence.
"Emily, if you want to leave, it's fine."
My face flamed as he said my name, and Jake turned around in his chair. I closed my eyes and tried to mentally transport myself anywhere but where I was sitting.
"Small world." Jake smiled.
Grant turned around to face Jake, and I saw something on Jake's face that looked like aggravation.
"Excuse me, do we know you?" Grant asked.
"You don't, but Emily does." Jake bit out.
Grant turned to me with a questioning look on his face. "Yes, I know him. We went to college together." I tried to keep the answer simple.
"Well, if you haven't noticed we're on a date here, so why don't you turn back around and mind your own business." Grant told Jake.
"Listen buddy, Emily and I have been friends far longer then you've been around, so I suggest you shut the hell up." Jake bit back.
The scene in front of me was unfolding like a take from a bad soap opera. I wanted to crawl under the table and hide until it was over. The patrons around us were staring, and Jake's floozy date was just sitting across from him smacking her gum between her loud pink lips. Grant abruptly stood from his chair and faced Jake with anger in his eyes. I didn't know what to do. I knew if I didn't say something, the situation would escalate, and one or both of them would end up in jail. Jake didn't need that. He could ruin his reputation and ultimately his career; I couldn't let that happen.
"Grant, please, let's just go," I pleaded.
"No. This bastard wants to start shit, then he can finish it, too." Grant began to roll up his sleeves.
Jake stood from his seat at the invitation. "Emily, you sure have found a winner here. Pretty boy likes to solve things with fighting."
Now, I was pissed. First, Jake makes fun of me for failing the bar exam, and now he has the balls to make fun of my choice in dates. Screw that.
"What is your problem Jake? Have you just turned into the world's biggest asshole or what?" I pushed my chair back and stood. "Excuse me, but I'm leaving." I grabbed my purse and started to walk out while in the background I could still hear the two of them verbally abusing each other.


---
C.D. Taylor began writing as an item to check off her bucket list. She resides in the southernmost part of Illinois, right on the mighty Mississippi river. She enjoys the quiet country life with her husband, son and the many farm animals that make up the rest of the family. C.D. decided that farm life was just a little too mundane, so she started writing erotica to spice things up, so far so good. C.D. entered cosmetology school right out of High School and practiced the art of hair styling for 12 years. When she isn't writing, she can usually be found sitting around a table making people laugh. She has always wanted to be a standup comic. She loves pulling practical jokes, dresses up in a costume every Halloween and believes that dancing is the key to a happy life (even if you aren't a good dancer). She believes that life shouldn't be taken too seriously, we will never get out alive anyway. More than anything, C.D. is a kid at heart, she doesn't believe in bedtimes, eating everything on her plate, or having ice cream only for dessert. Her favorite quote is by Dr. Seuss…"Why fit in, when you were born to stand out."