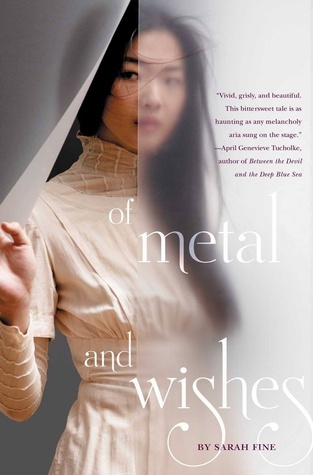 Of Metal and Wishes
Of Metal and Wishes #1
Author: Sarah Fine
Reading Level: Young Adult
Genre: Paranormal
Released: August 5th 2014
Review Source: Margaret K. McElderry Books
There are whispers of a ghost in the slaughterhouse where sixteen-year-old Wen assists her father in his medical clinic—a ghost who grants wishes to those who need them most. When one of the Noor, men hired as cheap factory labor, humiliates Wen, she makes an impulsive wish of her own, and the Ghost grants it. Brutally.

Guilt-ridden, Wen befriends the Noor, including their outspoken leader, a young man named Melik. At the same time, she is lured by the mystery of the Ghost and learns he has been watching her … for a very long time.

As deadly accidents fuel tensions within the factory, Wen must confront her growing feelings for Melik, who is enraged at the sadistic factory bosses and the prejudice faced by his people at the hand of Wen's, and her need to appease the Ghost, who is determined to protect her against any threat—real or imagined. She must decide whom she can trust, because as her heart is torn, the factory is exploding around her … and she might go down with it.
Of Metal and Wishes was such a conflicted read for me. We meet 16 year-old Wen, whom mother just recently passed away. Her father is a doctor at a slaughterhouse (yes, creepy) and now Wen is struggling with her social life. As someone tries to humiliate Wen, she makes a wish to this rumored ghost living in this slaughterhouse... And you know the saying, be careful of what you wish for. The ghost actually exists and her wish is granted, his existence is proven.
Although the reading was entertaining, I struggle to connect with Wen. At the beginning of the story, I thought she was a total brat but as you continue the story you somehow warm up to her. Yet, I still couldn't connect with her. I guess part of it is that you really do not get to know her? And another part was that this book is not for me.
None the less, I truly enjoyed the writing, which is the only reason why I kept reading this book. Of Metal and Wishes is a retelling of Phantom of the Opera and the ghost was the entertainment of this book. I really liked his "character". Overall, I do see myself reading the sequel to know more. I would say people should give it a try and see if this story is the potential to their liking.