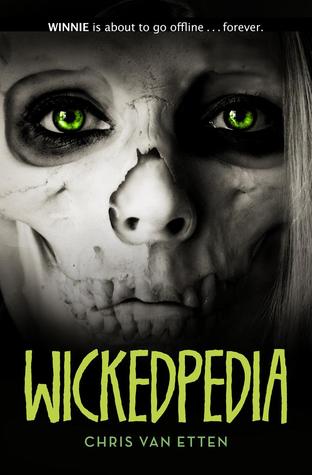 Wickedpedia
Point Horror
Author: Chris Van Etten
Reading Level: Young Adult
Genre: Horror
Released: June 24, 2014
Review Source: Scholastic Inc. | Netgalley
It's the return of Point Horror for the Internet generation! Don't open the door. Don't answer your phone. And whatever you do, DON'T turn on your computer. . . .

Cole and Gavin love playing practical jokes through Wikipedia. They edit key articles and watch their classmates crash and burn giving oral reports on historical figures like Genghis Khan, the first female astronaut on Jupiter. So after the star soccer player steals Cole's girlfriend, the boys take their revenge by creating a Wikipedia page for him, an entry full of outlandish information including details about his bizarre death on the soccer field.

It's all in good fun, until the soccer player is killed in a freak accident . . . just as Cole and Gavin predicted. The uneasy boys vow to leave Wikipedia alone but someone continues to edit articles about classmates dying in gruesome ways . . . and those entries start to come true as well.

To his horror, Cole soon discovers that someone has created a Wikipedia page for him, and included a date of death. He has one week to figure out who's behind the murders, or else he's set to meet a pretty grisly end.
Horror galore! Wickedpedia definitely brought the gore! (Hey, did that rhyme?!) Anyway, Chris Van Etten has come up with a genuinely clever way to bring gruesome deaths into books. I love the idea behind using Wickipedia to predict deaths.
It's hard not to compare this book to my latest review of Followers. Mostly, because they came out around the same time and they both are in the horror genre. But, I feel Wickedpedia outshines. I love not predicting who the villain is, although I had my good guess I didn't truly know until the end. THE END. Oh my God. If you need a reason to read Wickedpedia, that reason would be the way it ends. It's totally gross. In a good way! Ha.
So, have you searched for yourself on Wickipedia?