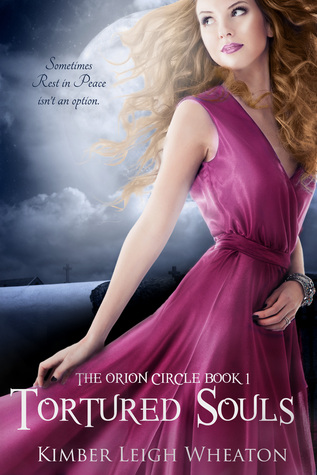 Tortured Souls
The Orion Circle #1
Author:
Kimber Leigh Wheaton
Reading Level: Young Adult
Genre: Paranormal Romance
Released: July 28th 2014
Review Source: Sea Dragon Press | Netgalley
Sometimes Rest in Peace isn't an option...

Kacie Ramsey sees ghosts—and it's ruining her life. Her mother left, her father blames her, and no matter how hard she tries, she can't keep the ghosts away. Now a new power has emerged. Nightly visions of grisly murders and a relentless predator draw her to the brink of insanity.

When the phantom appears at a party, Kacie's longtime crush, Logan, saves her. He invites her to join the Orion Circle, a group of supernatural hunters with chapters in schools all over the country. Through the Circle, Kacie learns to embrace her spiritual powers, and for the first time in her life she feels in control rather than a victim.

But the Foxblood Demon will not give up so easily. A demented serial killer in life who trapped the souls of the thirteen children he murdered, imprisoning them within the walls of his mansion. Now in death, he plots his return while drawing power from the pure souls of the children. He recognizes something in Kacie he's never seen before—a medium powerful enough to provide a vessel for his tainted soul.

Kacie can't ignore the tortured souls of the children crying out to her every night. With Logan at her side, she will fight the Foxblood Demon. But can they banish this powerful phantom, or will Kacie lose not only her body, but her eternal soul to the monster.
Tortured Souls
is a book which has been loved by many, rated 3.95 on Goodreads, but unfortunately didn't quite do it for me. The book had great premises, the summary sucked me right in, and the cover is very pretty, but the execution wasn't as great.
Tortured Souls
tells the story of Kacie, a girl who sees ghosts. Ghosts have ruined her life. They pester her, won't leave her alone and they're the reason her mother won't talk to her and her dad admittedly said he hated her. One night after a ghost gets physical, she runs into Logan. A guy who is not-so-normal himself. Turns out there's a whole community of people who aren't the norm. But it's when she runs into a tainted ghost that the problems really start happening. He's a sick soul and he wants to live again. And he plans to use Kacie's body to return to the living.
Personally, I think
Tortured Souls
was a little too fast paced. There were opportunities to add some suspense and mystery but it was like the author rushed to get the scenes done. This didn't allow things to build naturally. We didn't get to see Logan and Kacie's relationship blossom properly. It was very like 'you like me, I like you, bam! Now we're together'. Very out of the blue. It was the same with other relationships in the novel. They didn't develop, they just happened. That made it difficult to read. Also, the protagonist cried…a lot. It took away from her likability. I wanted to like her, I really, really did but when the slightest thing has her in tears it was hard to. And yet she sees ghosts, pretty disturbing ones, was even physically harmed by one, and she managed to keep the tears at bay then.
If this sounds like your kind of book then go for it. Give it a go. The too fast pace won't be a problem for everyone, I know some people like that, and the premises was good. It wasn't a bad story.