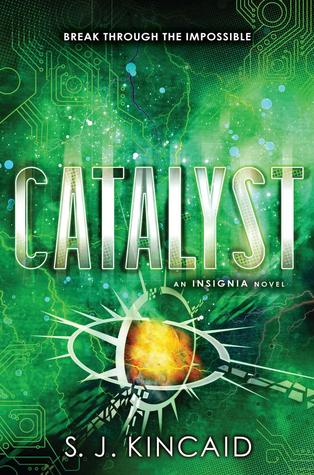 Catalyst
Insignia #3
Author: S. J. Kincaid
Reading Level: Young Adult
Genre: Science Fiction
Released: October 28th 2014
Review Source: Katherine Tegen Books
The explosive conclusion to the series reviewers have likened to Ender's Game and "Hogwarts-in-Space"

This exhilarating, explosive, and heartrending conclusion to the Insignia trilogy brings Tom and his intelligent, passionate, and brave young friends stunning tests and dangerous confrontations and through to an impossible future they could never have predicted.

Tom Raines and his friends are eager to return to the Pentagonal Spire to continue training for the elite Intrasolar Forces, but they soon discover troubling changes: strict new regulations and the revelation that the Spire is under new military control. What begins as an irritating adjustment soon reveals a dangerous shift in reality. Those now in control are aligned with corporate sponsors and their ruthless agendas. And when the military academy begins welcoming new cadets with suspicious neural processors, the first step in a plan with horrifying worldwide ramifications, Tom is desperate to stop it, even if that means keeping secrets from his closest allies.

Then a mysterious figure, the other ghost in the machine, begins fighting against the corporations, but with methods even Tom finds shocking. And when the enemy comes for Tom, how much can Tom endure in the battle to save himself? He must decide if he can still fight when the odds of success seem to be sliding from his grip.
I believe this has truly been my month for Science-Fiction. I picked up Catalyst for Josh our teen reviewer who has gone off to college, as he has read book 1 and 2 of the series. However, away he went to college and I was left to fill in the gap. Those of you that follow my reviews, know that Science-Fiction isn't my most favorite genre, however, when I do get in the mood for it, I clear my head, and sit back for the ride. Wishing that the ride will be good one. Can this book truly be read as a stand alone? Not at all. I encourage readers to pick up the first 2 books, first.
There is a lot going in this series. In Catalyst, there is action right from the beginning. Action that doesn't stop. Tom, the main character is not alone as he and others continue their training. Along the way there are secrets yet to be revealed. There are very few predictable moments which really lends well to a great read. Ms. Kincaid does a great job of setting up the storyline, continuing the storyline throughout 3 novels and ending with a conclusion that readers will be comfortable with. For Tom, even when things appear to get worse, he continues to fight on. I think this novel was almost like a coming of age revelation for Tom and he pushed forward in the midst of turmoil to get the job done.
---
S.J. Kincaid was born in Alabama, grew up in California, and attended high school in New Hampshire, but it was while living beside a haunted graveyard in Scotland, that she realized that she wanted to be a writer. Her debut, Insignia, came out in July of 2012. The second book in the series, Vortex came out in July of 2013. The final book in the INSIGNIA trilogy will come out in Fall of 2014.