---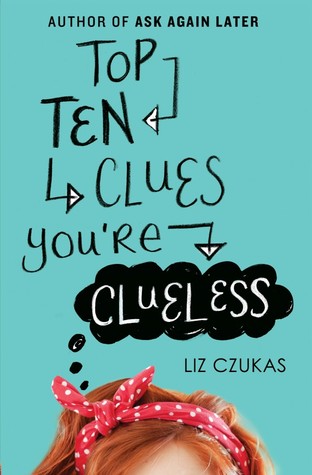 Top Ten Clues You're Clueless
Author:
Liz Czukas
Reading Level: Young Adult
Genre: Contemporary
Released: December 9th 2014
Review Source: Harper Teen
Top Five Things That Are Ruining Chloe's Day

5) Working the 6:30 a.m. shift at GoodFoods Market

4) Crashing a cart into a customer's car right in front of her snarky coworker Sammi

3) Trying to rock the "drowned rat" look after being caught in a snowstorm

2) Making zero progress with her crush, Tyson (see #3)

1) Being accused—along with her fellow teenage employees—of stealing upwards of $10,000

Chloe would rather be anywhere than locked in work jail (aka the break room) with five of her coworkers . . . even if one of them is Tyson. But if they can band together to clear their names, what looks like a total disaster might just make Chloe's list of Top Ten Best Moments
The Breakfast Club is one of my all time favorite movies. Just like in this movie, Top Ten Clues You're Clueless characters pour their hearts out and learn that they have more things in common that they thought.
Top Ten Clues You're Clueless is a fun and light read. It follows the story of Chloe and her fellow teen co-workers. Scheduled to work at her grocery store during Christmas Eve, Chloe is not too thrilled about the news. To make matter worst, later during her shift, she and her co-workers are accused of stealing money. Yet many other things occurs during this shift, that Chloe learns a valuable lesson in life.
I found myself enjoying this book. Not only does it reminds me of one of my favorite movies but in life, one learns so much if only one pays attention to one another. I love how it real it felt. I felt like I was part of the gang ( Gabe, Micha, Sammi, Tyson, and Zaina). The group is so diverse that one think they have nothing in common. But once we get to know each individual, we learn that even though we are different in many ways, sometimes we face the same problems in life. Sometime others have it better.
I have to be honest. I had a hard time at Chloe's many lists. Maybe because I like things straight to the point? Yet, I did enjoy Top Ten Clues You're Cluessless more than expected. It was such fun and light read. I even had few laughs and I hope everyone gives it a try.