Welcome to our stop on Now That You're Here tour for Amy K. Nichols. This tour is hosted by
Rockstar Book Tour
.
---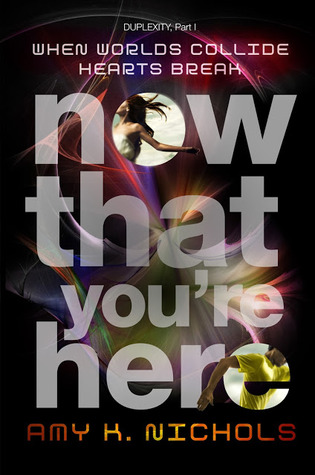 Now That You're Here
Duplexity # 1
Author: Amy K. Nichols
Reading Level: Young Adult
Genre: Science Fiction
Released: November 4th 2014
Review Source: Knopf Books for Young Readers
In a parallel universe, the classic bad boy falls for the class science geek.

One minute Danny was running from the cops, and the next, he jolted awake in an unfamiliar body--his own, but different. Somehow, he's crossed into a parallel universe. Now his friends are his enemies, his parents are long dead, and studious Eevee is not the mysterious femme fatale he once kissed back home. Then again, this Eevee--a girl who'd rather land an internship at NASA than a date to the prom--may be his only hope of getting home.

Eevee tells herself she's only helping him in the name of quantum physics, but there's something undeniably fascinating about this boy from another dimension . . . a boy who makes her question who she is, and who she might be in another place and time.

And, coming soon, Duplexity, Part II: While You Were Gone flips this story on its head and tells the tale of the alternate Danny and the alternate Eevee, living in Danny's parallel world.
At a Glance:
Okay so I immediately thought of She's All That. I love that movie! Any story with the "IT" boy falling for the geeky girl, count me in! I am such a hopeless romantic. Let's not forget the touch of science. After reading A Thousand Pieces of You by Claudia Gray alternative worlds are my new addiction.
Cover:
Just take a look at the cover! Doesn't it screams fun? With all the bright colors. Such an interesting and artistic cover.
Action:
I've come to learned that when it comes to alternative worlds, action is a requirement. The book starts with Danny running away from the cops and then BANG - an explosion occurs. He is keeping a secret from his universe. The mystery and suspense makes one wish to be jumping from one universe to the other to learn more.
Just image the possibility of having parallel universe and the many version of one human being is quite intriguing.
Heroine/Hero:
This is not a superhero type of book, but I have to say Eevee Solomon is such a sweet and loving character. She is that geeky girl that always comes with a scientific answer. To her, math and science explains everything. The reason why the world is logic and absolute. Once she realizes Danny is from an alternative world, this makes her realize that not everything is predictable or explainable. It changes her life.
Romance:
The popular boy falls in love with the geeky girl. Now That You're Here leaves readers wanting more of this romance. It sucks to fall in love with someone that does not belong in your world.
Something I loved:
Eevee is selfless. She cares so much of Danny that she put everything aside to help him find his path. I really liked this. I also loved how two unlikely characters fall for one another.
Something I didn't like:
Though the book was fun, at times I felt the story drag here and there. Also, not a lot happens. I know this is an introduction to a series, which may be the reason why. Danny comes to Eevee for help and trying to find out how to get back to his universe. This is about how far the story goes. The biggest negative is the cliffhanger. UGH. Why do I always do this to myself? Start a series and wait for the second book to come out a year after?
Would I recommend it?
I would recommend this book to lovers of parallel universe - Now That You're Here will provide an introduction of a fun and exciting new adventure.


---
Amy K. Nichols lives on the edge of the Phoenix desert with her husband and children. In the evenings, she enjoys sitting outside, counting bats and naming stars. Sometimes she names the bats. NOW THAT YOU'RE HERE is her first novel.
10 winners will receive a hardcover of NOW THAT YOU'RE HERE and swag. US and Canada Only.
a Rafflecopter giveaway
Week Two:
12/8/2014- Page Turners Blog- Interview
12/9/2014- Once Upon a Twilight- Review
12/10/2014- The Cover Contessa- Interview
12/11/2014- The Best Books Ever- Review
12/12/2014- Me, My Shelf and I- Guest Post