---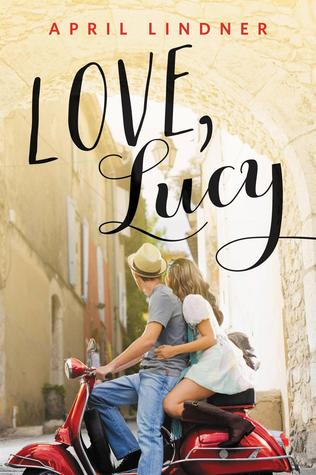 Love, Lucy
Author:
April Lindner
Reading Level: Young Adult
Genre: Contemporary
Released: January 27th 2015
Review Source: Poppy
While backpacking through Florence, Italy, during the summer before she heads off to college, Lucy Sommersworth finds herself falling in love with the culture, the architecture, the food...and Jesse Palladino, a handsome street musician. After a whirlwind romance, Lucy returns home, determined to move on from her "vacation flirtation." But just because summer is over doesn't mean Lucy and Jesse are over, too.

In this coming-of-age romance, April Lindner perfectly captures the highs and lows of a summer love that might just be meant to last beyond the season.
Earlier this year I had the opportunity to participate in a book blast for Love, Lucy. Thanks to Rockstar Blog Tours, we shared an awesome
guest post
from Lucy Sommersworth on the
Top Ten Things she loves about Italy
. Needless to say, after reading this post, I had to get my hands on Love, Lucy. One of my hobbies is to travel. I'd visited United Kingdom and France but not Italy. Man, I wished I had. Looking at those pictures, I told myself to plan a trip to Italy in the future and my anticipation for this novel was high.
Unto the story.
Love, Lucy was somewhat cute but it wasn't what I was expecting. The book is divided into two parts. Part One: Italy and Part Two: Philadelphia. We meet Lucy Sommersworth. Recently graduated, Lucy makes a deal with her parents. She always dreamed to visit Europe for the summer. So she promised to major in Business in exchanged for this trip. Seems like a sweet deal, right? For Lucy, this is just another way for her father to manipulate her life. Acting is her passion but this is unacceptable to his eyes. If she cannot have one, then she hopes of a fabulous time in Europe.
During her time in Italy, Lucy finds love but returns to college with a broken heart. Though I enjoyed parts of the book, the romance felt short for me. I couldn't picture Lucy in love with this boy she just met. I didn't buy their love. I wish their time while in Italy were longer than the time they were apart. I wished for a longer and adventurous time of a summer love. I just didn't feel their connection.
I did however liked how Lucy finally decides to follow her passion. Her father came off as a jerk so standing up to him wasn't easy. Following her passion is the best decision she made in this story. Except it took her a while to make a decision.
Overall, Love, Lucy was an okay read but not the ideal book for romance. There were cute moments, adorable at times, but nothing to swoon about.