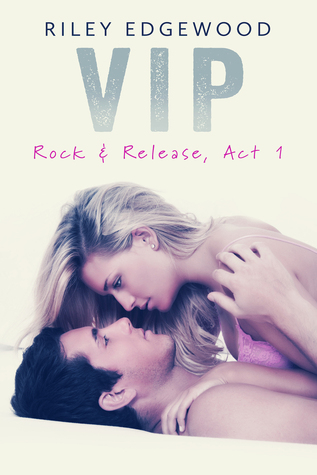 VIP
Rock & Release, Act #1
Author:
Riley Edgewood
Reading Level: New Adult
Genre: Contemporary Romance
Released: November 17th 2014
Review Source: Netgalley
VIP is the first act of Rock & Release, Riley Edgewood's three-part romance serial!

When Cassidy Evans scores VIP tickets to a concert, she decides to use them for one carefree night before beginning a summer internship at her father's Fortune 500 company. But one carefree night turns into a few too many martinis--with two unexpected twists: A steamy encounter with Gage Logan, sexy singer and guitarist, and a tempting job offer from Gage's boss to work at the concert venue she now knows quite intimately.

She definitely can't take the job. Her internship is an opportunity any business major would kill for. But the thought of working with her father, a man furious with grief over a family tragedy that struck six months ago, fills her with dread.

Then there's Gage. Working with him all summer could be hot. Cassidy can't stop flashing back to their night together. Molten kisses. His hands smoothing across the skin of her belly. The weight of his body above her own...

And suddenly the decision about how to spend her summer is much, much harder to make.

VIP is the first act of the three part sexy romance serial, Rock & Release. The final two acts, Starstruck and Show Stopper, will release on December 1 and December 15, respectively.

New Adult romance suitable for 17+ due to mature content.
I really liked this book. I overdid it with the New Adult books and put myself off them, but I thoroughly enjoyed VIP and while I wait for the second part, I intent to read more New Adult books.
I felt for Cassidy. After losing her brother only 6 months ago, she's still finding her feet again. Her controlling parents are trying to dump her brother's dreams on her, but it's not what she wants to do. Cassidy and her best friend land VIP tickets to a concert but things don't go quite as planned and she ends up meeting Gage, with his beautiful face and an even better voice... suddenly life is a little brighter.
I LOVE that there's only a two week between part 1 and part 2. It doesn't end on a cliffhanger per say, but there are ends which need tying up and I'm curious to see how things end up. It was a short, cute read which I dusted off in no time and I can't wait for the next instalment. It being only part 1, and only the start of the book, there isn't much to be said, other than pick it up and enjoy the start of Cassidy and Gage's journey.