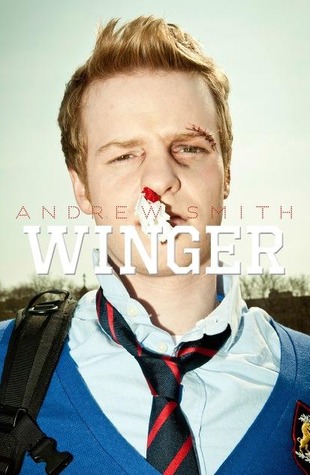 Winger
Winger #1
Author:
Andrew Smith
Reading Level: Young Adult
Genre: Contemporary
Released: May 14th 2013
Review Source: Purchased
Ryan Dean West is a fourteen-year-old junior at a boarding school for rich kids in the Pacific Northwest. He's living in Opportunity Hall, the dorm for troublemakers, and rooming with the biggest bully on the rugby team. And he's madly in love with his best friend Annie, who thinks of him as a little boy.

With the help of his sense of humor, rugby buddies, and his penchant for doodling comics, Ryan Dean manages to survive life's complications and even find some happiness along the way. But when the unthinkable happens, he has to figure out how to hold on to what's important, even when it feels like everything has fallen apart.

Filled with hand-drawn info-graphics and illustrations and told in a pitch-perfect voice, this realistic depiction of a teen's experience strikes an exceptional balance of hilarious and heartbreaking.
Merry Christmas All!
Not to make you blue, but I had the flu during Thanksgiving Day. Yeah, it sucks to be sick while everyone else is enjoying a nice meal (more like meals). Anyways, I have about 40 books that I
want
need to read (not including review books) pile next to me, so I picked up the top book and Winger was the one. I had purchased this book after reading a friend's review. She loved this book and well when I read the synopsis, Winger is right up in my alley.
Thank you Andrew Smith for making my Thanksgiving Day more exciting. I had a ritual between laughing and coughing every 5 minutes. It was sad yet funny. I didn't feel such a loser having Ryan Dean as my company on this day.
Ryan Dean is one heck of a unique character. He will have you chucked throughout the book. Right from the cover, you get facts: a) he goes to a private school b) he looks wealthy c) poor guy, he is bleeding, his life at this school may be hell. Well he is all this! Once you start reading you find out why. He is a fourteen year old junior and he is pretty darn smart. He is treated as a kid because comparing to his classmates, he is one. What sucks about his situation is, his crush and best friend also thinks he's a little kid. SUCKS FOR HIM! But don't feel too bad for him. He tells us his story and when you get to know him better, you will fall in love with his funny, smart and awkward self. He is genuine and loved. He teaches you such great lessons about life, friendship and love.
So if you're looking for a holiday break read - this one is a must read. If you're feeling blue, then pick Winger and this will bright your day! Go and read it now!