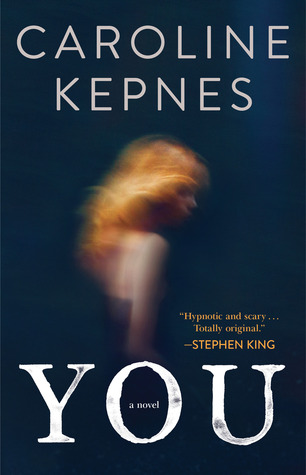 YOU
You #1
Author:
Caroline Kepnes
Reading Level: Adult Fiction
Genre: Thriller | Suspense | Mystery
Released: September 30th 2014
Review Source: Atria | Emily Bestler Books
From debut author Caroline Kepnes comes You, one of Suspense Magazine's Best Books of 2014, and a brilliant and terrifying novel for the social media age.

When a beautiful, aspiring writer strides into the East Village bookstore where Joe Goldberg works, he does what anyone would do: he Googles the name on her credit card.

There is only one Guinevere Beck in New York City. She has a public Facebook account and Tweets incessantly, telling Joe everything he needs to know: she is simply Beck to her friends, she went to Brown University, she lives on Bank Street, and she'll be at a bar in Brooklyn tonight—the perfect place for a "chance" meeting.

As Joe invisibly and obsessively takes control of Beck's life, he orchestrates a series of events to ensure Beck finds herself in his waiting arms. Moving from stalker to boyfriend, Joe transforms himself into Beck's perfect man, all while quietly removing the obstacles that stand in their way—even if it means murder.

A terrifying exploration of how vulnerable we all are to stalking and manipulation, debut author Caroline Kepnes delivers a razor-sharp novel for our hyper-connected digital age. You is a compulsively readable page-turner that's being compared to Gone Girl, American Psycho, and Stephen King's Misery.
Where do I start when it comes to YOU. This book was all sorts of blow-your-mind crazy but at the same time you could not put it down. I can't remember ever reading a book like YOU. I am so glad that I was able to review YOU for Atria Books because I probably wouldn't have paid any attention to this book otherwise. So I'm hoping with my review, more like myself that normally don't have a need or want to pick up a thriller like YOU, will now try it and love it like I did. This book is definitely out of the box and might even be way out of one's comfort zone but that is what makes it great.
If you looking for your cookie-cutter romance book, YOU is no where close to being that. The relationships in this book are insane and the people are even worse, if that's possible. But again this is what makes YOU great. See the character narrating the story is what one would call a psychopath with an obsession on the girl that he "loves". I sit here laughing because the choice words I should be using in this review are much more vulgar that what I'm using but out of respect to the younger audience we have on OUaT, I'm trying really hard not to use any of it but this book is really all kinds of F-up that you just have to find out what the heck will the psycho do next. And let me tell you about his love interest, she is worse than him and he is the psycho. She has some serious daddy issues amongst many other thing and somehow they just make sense together in a different dimensional world. YOU makes you become obsessed with its pages, it's like Kepnes put some voodoo in the pages because you can't put the book down. Their were moments I was asking myself "Am I seriously entertain withby this?" and without any hesitation I was.
Now you have heard me talk about how crazy Joe is but he also has good qualities. And at times you even feel bad for him and want to bitch slap Beck. No one should deserve what Joe does with Beck but at times you are kinda routing for him. And Beck, oh man she is something alright. Who does half of what Joe described about her. And her one friend, now her I wanted to cause pain to myself. You see what I'm talking about, I'm getting all my feathers ruffled up again thinking about this book. You guys will not be disappointed, I even encourage men to read this book. But anyone under 18 , I really ask that you stay away until your older and this book won't scar you for life.
YOU is a must read, I have repeated myself a few times reminding you that and you'll see after reading it, you'll be on twitter like I was tweeting the author like crazy because all you want to do is ask her how she did it. Kepnes hit this one out of the park!
---