---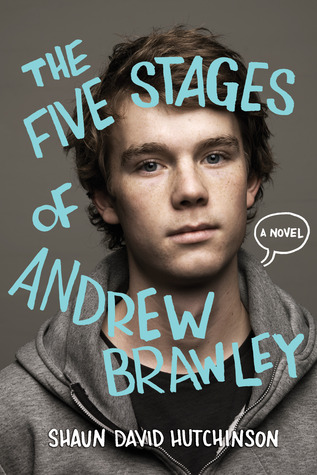 The Five Stages of Andrew Brawley
Author:
Shuan David Hutchinson
Reading Level: Young Adult
Genre: Contemporary
Released: January 20, 2015
Review Source: Simon Pulse

Andrew Brawley was supposed to die that night. His parents did, and so did his sister, but he survived.

Now he lives in the hospital. He serves food in the cafeteria, he hangs out with the nurses, and he sleeps in a forgotten supply closet. Drew blends in to near invisibility, hiding from his past, his guilt, and those who are trying to find him.

Then one night Rusty is wheeled into the ER, burned on half his body by hateful classmates. His agony calls out to Drew like a beacon, pulling them both together through all their pain and grief. In Rusty, Drew sees hope, happiness, and a future for both of them. A future outside the hospital, and away from their pasts.

But Drew knows that life is never that simple. Death roams the hospital, searching for Drew, and now Rusty. Drew lost his family, but he refuses to lose Rusty, too, so he's determined to make things right. He's determined to bargain, and to settle his debts once and for all.

But Death is not easily placated, and Drew's life will have to get worse before there is any chance for things to get better.

A partly graphic novel.
I saw this book on Goodreads, loved the cover, even more loved the blurb...so I had to have it! I'd like to thank Simon and Schuster so much for sending it to me!! I knew I would love it before I even opened it...and I did!!
The story focuses on Andrew Brawley, a boy who lives and works in a hospital. He's always on the go, trying to outrun people who will notice that he never leaves and a woman he calls "Death." Drew is the perfect character for this book and he's so well written. As a middle school teacher I see kids like him every day, lost in their own thoughts and world. I'm not usually one to read novels with a male as the main character, but I was instantly in love with Drew from page one.
The thing I liked best about this book was that it wasn't just a story about Drew. The minor characters weren't so minor and played a huge role in Drew's life at the hospital. Lexi and Trevor are two teenagers with cancer that Drew visits regularly. You get so wrapped up in their stories that you have to remind yourself that their just characters in a novel and not really in the hospital. When an author can make feel emotions for characters that don't really exist...you know you have a winner.
Another cool part was that Drew is writing his own graphic novel that's been integrated into the story as well. I think that male readers will enjoy this part and like the character Patient F. I think this really added to the story and gave the novel a unique touch.
I laughed...I cried...I cried some more...but in the end, I LOVED this story. I would recommend this to my 8th graders and high school aged kiddos. There are a few things that I don't think some of my 6th graders would understand, but I really enjoyed this book and look forward to reading more from this author.