Welcome to our stop on Hellhole tour for Gina Damico. This tour is hosted by
Rockstar Book Tours
.
---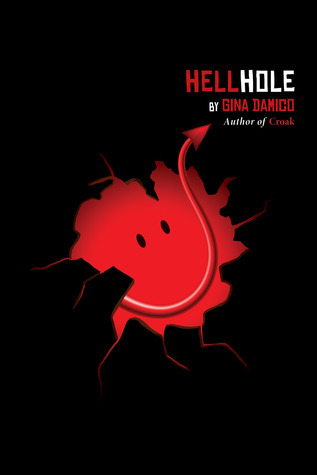 Hellhole
Author: Gina Damico
Reading Level: Young Adult
Genre: Fantasy
Released: January 6, 2015
Review Source: HMH Books for Young Readers
A devil is a bad influence . . .

There was a time when geeky, squeaky-clean Max Kilgore would never lie or steal or even think about murder. Then he accidentally unearths a devil, and Max's choices are no longer his own. The big red guy has a penchant for couch surfing and junk food—and you should never underestimate evil on a sugar high.

With the help of Lore, a former goth girl who knows a thing or two about the dark side, Max is racing against the clock to get rid of the houseguest from hell before time, and all the Flamin' Hot Cheetos this side of the fiery abyss, run out.
I have to admit that after picking this trailer for our Trailer Thursday, I should've known that I couldn't read this book in public. The trailer made me laugh so hard that I almost peed in my pants. Actually, I might have just a little. So when I started reading this book at the library, in the teacher's lounge, at my son's swimming lessons...I was laughing so hard that people were starting to look at me funny. I mean, they probably thought something was wrong with me. You should check out the trailer
here
.
First of all, I haven't read any of the other author's books and now I wish I have. The reviews for her Croak trilogy make me want to pick them up the next time I'm at the mall. It's been a long time since I've read something this funny, and I'm glad I did. The main character Max is very socially awkward and I really can't relate to that myself, but as a teacher, I know a ton of kids just like him in my classroom. I really liked his character because Damico did a great job of making him realistic. You could tell that she had someone in mind when writing this character. Burg was a pretty interesting character. For a devil, I found his character to be entertaining. He got Max into some pickles and I just felt so sorry for him. Why did he have to be so greedy? I also really liked the character Lore. She has to be the coolest geeky character. Lore and Max compliment each other well and I enjoyed the parts she was in.
The writing was really good and it makes me really want to read her Croak trilogy. She had me laughing and crying at the same time. I have two little boys and I could see the special relationship Max shares with his mom. She's sick and this whole thing with Burg started because he cares about taking care of his mother. I think the plot was fun and it kept me reading. Actually, I think it only took me two days to read this one. Which says a lot since I'm not that fast of a reader.
Overall, I really enjoyed this book. I know a lot of middle school readers who would love to get their hands on this one. I would recommend this book to those socially awkward boys who I could totally see ending up in a situation like Max. I can't wait to see what Damico's next book is going to be!! It will be hard to top this one.
---
Gina Damico is the author of Croak, Scorch, and Rogue, the grim-reapers-gone-wild books of the Croak trilogy. She has also dabbled as a tour guide, transcriptionist, theater house manager, scenic artist, movie extra, office troll, retail monkey, yarn hawker and breadmonger. A native of Syracuse, New York, she now lives outside Boston with her husband, two cats, and one dog, and while she has never visited hell in person, she has spent countless waking hours at the Albany Regional Bus Terminal, which is pretty darn close. Visit her website at
www.ginadami.co
.
Giveaway is open to anywhere The Book Depository ships.
Giveaway ends on January 21st at 11:59 p.m. Pacific.
a Rafflecopter giveaway
Gina's Giveaway
Yep, another Giveaway!!
Hey there book fans! I'm running a Follow Frenzy giveaway over the course of this blog tour, and the prize ispretty neato: a signed copy of HELLHOLE wherein each chapter will have a little bit of trivia and/or a doodle handwritten by yours truly. (Gina) (Damico) To enter, all you have to do is follow me on one or more of my various social media outlets (Twitter, Facebook, Tumblr, Instagram, Youtube), then fill out this adorable little
form
. That's it! The more things you follow, the more chances you will earn to win. Good luck!
Week Two:
Jan. 12th Once Upon a Twilight – REVIEW
Book Sniffers Anonymous – INTERVIEW
Jan. 13th No BS Book Reviews – INTERVIEW
The Best Books Ever – REVIEW
Jan. 14th Teen Readers' Diary – GUEST POST
The Book Bratz – REVIEW
Jan. 15th Sweet Southern Home – REVIEW
Eli to the nth – REVIEW
Jan. 16th Bad Bird Reads – GUEST POST
Crossroad Reviews – REVIEW