Welcome to our stop on The Originals: The Rise tour for Julie Plec. This tour is hosted by
CBB Book Promotions
. Today we share our 5 tree review plus an amazing giveaway, and some exclusive special content!
---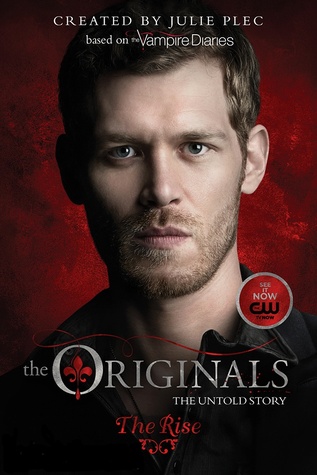 The Originals: The Rise
Author: Julie Plec
Reading Level: Young Adult
Genre: Paranormal
Released: January 27, 2015
Review Source: Blog Tour
Family is power. The Original vampire family swore it to each other a thousand years ago. They pledged to remain together always and forever. But even when you're immortal, promises are hard to keep.

Arriving in New Orleans in 1722, Original vampire siblings Klaus, Elijah and Rebekah Mikaelson believe they've escaped their dangerous past. But the city is lawless, a haven for witches and werewolves unwilling to share territory. The siblings are at their mercy…especially after Klaus meets the beautiful and mysterious Vivianne. Her impending marriage is key to ending the war between the supernatural factions—and Klaus's attraction to her could destroy the uneasy alliance. As Elijah works toward securing a piece of the city for his family, and Rebekah fights her unexpected feelings for a French captain, will Klaus's volatile desires bring their world crashing down—and tear them apart for good?
The Originals: The Rise takes us on all three of the Mikaelson siblings' journey. Klaus, Elijah, and Rebekah are the Original Vampires and they have arrived in New Orleans escaping their past, but looking to claim their place in between a world full of witches and werewolves. In steps Klaus to feel a great attraction towards Vivianne, the one half witch-half werewolf, that is responsible for ending the war between supernaturals. How might this end?
One word. Vampires! I mean, isn't that why we're all here? Boy how I've missed vampires! So, I am one of the rare people that have yet to watch The Originals T.V. series. Let me just say though, that it will definitely change now after having read this book. I cannot even begin to express how much I loved and appreciated The Originals: The Rise. But, let me start with kind words about all the greatness that is this novel.
I try not to pick favorite characters, because every character is important. But, Klause! *swoons* I live for his point of views. Don't get me wrong, I really do love Elijah and Rebekah. Klaus just knows how to steal everyone's attention, though.
And, let's give it up for Julie Plec! FANTASTIC writing. Of course, with her amazing repertoire, it's really no surprise. The story line in The Originals: The Rise is intriguing from the start. After a couple of pages you just know you're in for a juicy ride!
Having said that, even if you aren't familiar with the T.V. series, The Originals, this is definitely a book you NEED to pick up. It definitely made me feel nostalgic, reminding me why I love reading. And, if you are a fan of the T.V. series then this is a no brain-er for you. Pick up your copy of The Originals: The Rise out today!
---
---
Julie Plec is the co-creator & executive producer of The Vampire Diaries & the creator of The Vampire Diaries spin-off, The Originals. Plec got her start as a writer and producer on the ABC Family series Kyle XY. She also collaborated on the CW drama The Tomorrow People. Her screenplay adaptation The Tiger's Curse is in development at Paramount, and she will produce the feature @emma with Darko Entertainment. Past feature production credits include Scream 2 and Scream 3.
---
15 prize packs including: A copy of
The Originals: The Rise
and a copy of
The Originals
season 1 on DVD.
a Rafflecopter giveaway