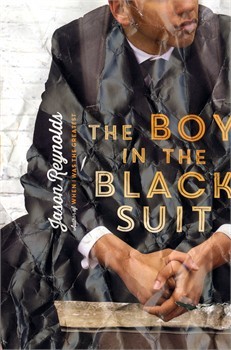 The Boy in the Black Suit
Author:
Jason Reynolds
Reading Level: Young Adult
Genre: Contemporary
Released: January 6, 2015
Review Source: Atheneum Books for Young Readers
Just when seventeen-year-old Matt thinks he can't handle one more piece of terrible news, he meets a girl who's dealt with a lot more—and who just might be able to clue him in on how to rise up when life keeps knocking him down—in this wry, gritty novel from the author of When I Was the Greatest.

Matt wears a black suit every day. No, not because his mom died—although she did, and it sucks. But he wears the suit for his gig at the local funeral home, which pays way better than the Cluck Bucket, and he needs the income since his dad can't handle the bills (or anything, really) on his own. So while Dad's snagging bottles of whiskey, Matt's snagging fifteen bucks an hour. Not bad. But everything else? Not good. Then Matt meets Lovey. She's got a crazy name, and she's been through more crazy than he can imagine. Yet Lovey never cries. She's tough. Really tough. Tough in the way Matt wishes he could be. Which is maybe why he's drawn to her, and definitely why he can't seem to shake her. Because there's nothing more hopeful than finding a person who understands your loneliness—and who can maybe even help take it away.
The writing in this book reminded me so much of Gary Paulsen. You may not know that the author of Hatchet actually writes books about kids trying to get out of the projects, but he does. This is a story of a boy who wants to do better with his life after the passing of his mother. The writing matches Paulsen's because from the very beginning you feel like you're living right along with Matt from the very beginning.
At first glimpse of the cover and title, I couldn't tell what the book was going to be about. I thought maybe it was a modern take of Martin Luther King. I thought maybe this took place in the 50's because you really don't see a lot of kids these days wearing black suits. Matt wears the suit because he's working at the funeral home that his mom actually had a service at. It's working at this place and the people that he meets there that helps him move past her death. My grandmother actually passed away last week, so this book really hit home and helped me get through the pain as well.
My favorite character was Lovey because she was exactly what Matt needed to move on and deal with his loss. It was refreshing to have such good characters that seemed so realistic. The problems they faced, their mannerisms, and how they talked were all realistic and authentic. Lovey caught my heart from the beginning and without revealing too much, I didn't think I could handle a part where things went wrong.
I just can't get over how good the writing was. It's authentic, real, and blew me away. I would recommend this book to high school students who are going through hard times, not just death, but hard times in general. Matt could've gone the opposite route after the death of his mom, but he didn't. He surrounded himself with people who would help.